Vangi Bhath – II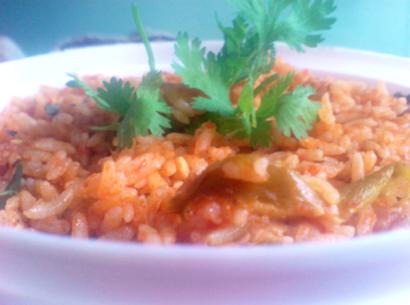 Ingredients
• Long variety rice – 1 cup
• Tender brinjals – ¼ kilo
• Green chilies – 3
• Tomatoes – 3 or 4
• Oil – 2 to 3 tbsp
• Salt – as required
• Turmeric powder – ½ tsp.
• Curry leaves – few
Grind Together:
• Red chilies – 6
• Cloves – 2
• Cinnamon – small piece
• Ginger – ½ inch piece
For Seasoning:
• Mustard seeds,
• Black gram dhal
• Bengal gram dhal
Preparation
1. Cook rice and spread over a broad basin to cool.
2. Dice brinjals into small pieces and soak in salted water till required.
3. Slit green chilies into two. Grind the masala to a smooth paste.
4. Cut tomatoes as finely as possible.
5. Heat oil; add the seasoning with curry leaves, then fry green chilies for few minutes.
6. Add brinjals, tomatoes, ground masala paste, salt, turmeric powder and little water.
7. Close the pan with a lid and cook in medium flame till brinjals become tender and moisture is absorbed completely.
8. Stir in between to prevent charring. Add cooked rice and fry for few minutes.
Serve hot.
Serves
2 Persons
By Bhaktin Mallika