Veg Cutlet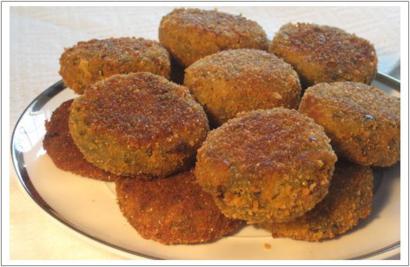 Ingredients
•Potatoes……………………………………..2
•Carrot ……………………………………….1
•Beans ………………………………………4, 5
•Peas ………………………………………..1/4 cup
•Corn ………………………………………..1/4 cup
•Green Chilies ……………………………….4, 5
•Salt………………………………………….as required
•Cumin Seeds………………………………..1 tsp
•Chopped Ginger…………………………….1/2 tsp
•Pepper Powder……………………………..1/4 tsp
•Amchur/ Dry Mango powder………………1/4 tsp
•Chaat Masala……………………………….1/2 tsp
•Minced Cilantro…………………………….2 tsp
•Maida/All purpose flour…………………..5 tsp
•Plain Bread Crumbs……………………….1 cup
•Oil………………………………………….for deep frying
Preparation
1.Boil potatoes, drain the water completely. Peel the skin and cut into cubes. Keep aside.
2.Boil carrot, beans, peas and corn. Strain the water completely and cut carrot and beans into small pieces. Don't mash the vegetables. In a mixing bowl, add green chilies, salt, cumin seeds, grated ginger, pepper powder, mango powder/amchur, chaat masala, minced cilantro, boiled peas, boiled corn, carrot and beans mix all together thoroughly.
3.Now add potato pieces and combine all the ingredients together. Now make a batter with all purpose flour and water.
4.Heat oil in a deep frying pan. Meanwhile make cutlets with the dough mixture, dip it in the all purpose flour batter and coat the cutlet with the bread crumbs on both sides.
5.Deep fry on both sides of the cutlet until golden brown. Repeat it for the remaining dough. Serve hot with cilantro chutney or tomato ketchup
By Vaidehi