Vegetable cutlet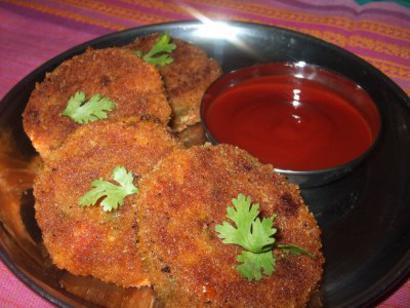 Ingredients
•Potatoes boiled & mashed……………………..2
•Boiled vegetables…………………………………2 C
•(carrot, beans, peas, cauliflower etc.)
•Oil………………………………………………………2 Tbsp
•Cumin seeds…………………………………………1 Tsp
•Ginger grated………………………………………2 Tbsp
•Green chilies………………………………………..3
•Asafetida…………………………………………….¼ Tsp
•Turmeric powder…………………………………..½ Tsp
•Coriander powder…………………………………1 Tsp
•Red chili powder……………………………………½ Tsp
•Amchur powder (dry mango powder)……..1 Tsp
•Garam masala………………………………………1 Tsp
•Salt……………………………………………………..2 Tsp
•Bread crumbs……………………………………….1 C
•All purpose flour……………………………………2-3 Tbsp
•Water………………………………………………….¾ C
•Oil for deep frying
Preparation
1. Squeeze out the excess moisture from the mixed vegetables using a colander or tissue paper. Keep aside.
2. Heat 2 Tbsp oil; add cumin seeds, when they darken a few shades, add ginger, green chilies and sauté them for 1 minute. Add asafetida and all the other powdered spices and cook for 2 minutes. Add salt and the boiled mixed vegetables. Cook till all the
moisture is gone. Take off from heat and mix well with the mashed potatoes and 2-3 tbsp of bread crumbs. Allow to cool.
3. Divide the mixture into 12 or 15 equal portions. Shape each portion into a ball, and then flatten it lightly between the two palms.
4. Whisk the flour and water until a smooth batter is formed. Dip each cutlet in the batter quickly, making sure not to allow the cutlet to soak too much of moisture from the batter. Roll in the bread crumbs so that it coats the cutlet completely.
5. Heat oil in a large frying pan. Deep fry the cutlets in batches of 3-5 at a time, until golden brown in color. Drain on paper towels.
Serve hot with any chutney or sauce of your choice.
Yield
12-15 cutlets
By Anand Lila Devi Dasi