Vegetarian Shepherd's Pie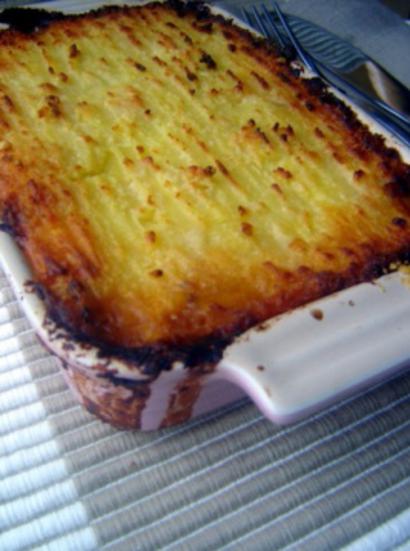 Ingredients
For base of pie
• Brown lentils – 1 1/4 cups
• Water – 2 litres
• Olive oil – 2 tbsp
• Yellow asafoetida powder – 1 tsp
• Freshly ground black pepper – 1/4 tsp
• Celery, diced – 1 cup
• Home-made curd cheese (panir) from (2 litres) milk and pressed for 1/2 hour, or 200g shop-bought panir cheese
• Good quality tamari or soy sauce – 5 tbsp
For potato topping
• Butter – 2 tbsp
• Baking potatoes, peeled and cubed – 6 large
• Milk – 1/2 cup
• Salt – 1 tsp
• Sour cream – 2 tbsp
• Chopped fresh parsley – 3 tbsp
Preparation
1. Boil the brown lentils and water in a heavy 6-litre/quart saucepan. Reduce to a simmer and cook until they become soft. Strain through a colander. Put the lentils aside and retain the liquid for use as a soup stock at a later date.
2. Meanwhile, boil the potato cubes in slightly salted water until they become soft. Drain and mash them until smooth. Add the butter, milk, salt, and sour cream and mix well.
3. Heat the olive oil in a small, heavy pan until very hot. Add the asafoetida and pepper and saute momentarily. Add the celery bits and stir well; reduce the heat and braise the celery until soft, stirring occasionally. Remove from the heat.
4. Mash the drained lentils until smooth.
5. Crumble the curd cheese in a bowl and add the soy sauce. Mix well. Combine this mixture with the mashed lentils and the braised seasoned celery bits.
6. Spread this pie filling evenly in the bottom of an ovenproof casserole dish. Cover this with the mashed potatoes. Smooth the mashed potatoes and use a fork to mark the top with lines.
7. Bake in a very hot oven 230°C/450°F until the top is browned. Remove from the oven, sprinkle with fresh parsley, and serve hot.
By Kurma