Whole Wheat Buttermilk Bread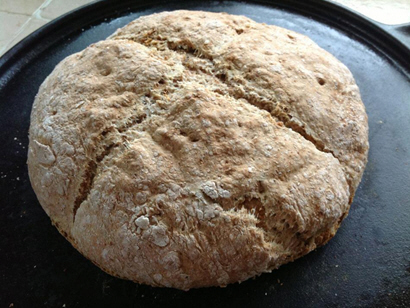 Ingredients
• 2 cups unsifted whole-wheat flour
• 2 cups unsifted all-purpose flour, plus more for dusting
• 1 teaspoon baking soda
• 1 teaspoon salt
• 2 1/4 cups light buttermilk
Preparation
1. Preheat oven to 450°F. Dust a clean surface with cornmeal on your baking pan (flat pan).
2. In a large mixing bowl, combine flours, baking soda, and salt. Whisk together. Make a well in the middle. Pour in about 2/3 cup of the buttermilk. With one hand, stir it into the dough in a circular motion. Add another 2/3 cup of the buttermilk. Stir again with your hand, until flour is incorporated. Repeat until buttermilk is gone, and you have a big ol' lump of dough, which should be, "soft, but not too wet and sticky."
(** Important note** If the dough gets too wet then just add a little more flour until it is soft but not too tough. Don't knead the dough to much, just enough to incorporate all the ingredients nicely.)
3. Turn dough out onto a floured surface. Clean your hands, dry them thoroughly, and dust them with flour. Lightly knead dough a few times, until it's a rounded loaf-like shape. Pat it down into a round, 2"-thick disc. Transfer to baking sheet. With a serrated knife, cut a deep X across the bread. Prick each area a few times with the knife.
4. Bake 20 minutes on 450°F. Drop the heat to 400°F and bake an additional 30 to 35 minutes. Bread should appear finished and sound hollow when you knock on it. Remove from oven and cool on a wire rack until you're ready to offer to Krishna.
By Bhaktin Christina
Source : https://www.facebook.com/KrsnasTreatsAndInspiringIdeas?ref=stream