Aam Papad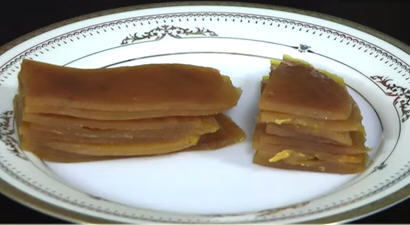 Ingredients
. 4 Big Mangoes (1kg)
. 1 Cup Sugar
. 4 Cardamoms (Elaichi)
. 1/2 tsp Ghee
Preparation
1. First peel the mangoes and cut the pulp into small pieces
2. Then, make a paste of the plup in the mixture.
3. Well put it in a pan, place it on the stove and add some sugar.
4. Cook this paste till it becomes thick in consistency.
5. Till then grind the cardamoms into a powder.
6. Check if it is sticky enough then switch off the gas.
7. Now add the cardamom powder to it.
8. The thicker this pulpis, the sooner it will congeal into solid Aam papad.
9. Coat the plate with a little ghee. Put the pulp into the plate and put it under the sun for 2 days to dry.
10. Cut it into pieces. We can keep it outside for a month, and if we put in the fridge it will last for 2-3 months.
11. Its Ready! Enjoy it.
By Bhaktin Archana