Apple Salad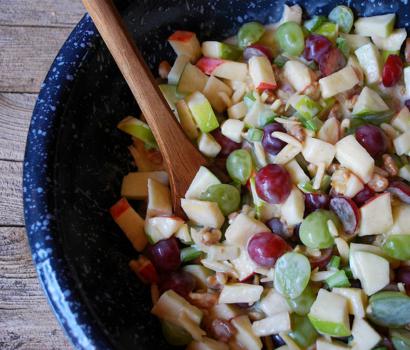 Outside of Kashmir, where most of India's apples are grown, the texture tends to be mealy –a sure sign of over ripening due to long storage at warm temperatures. On the whole, I do not find them as good as most. American varieties. Use any crisp salad or all-purpose apple: for example, Newton, pippin or McIntosh, which are crisp, sweet and juicy, with a tangy overtone; anything from sweet red or Golden Delicious to tart granny Smith will do as well. With the grapes and mint-almond dressing, this is an elegant mid-winter fruit kachambers.
Preparation and chilling time (after assembling ingredients): 30 minutes
Ingredients
• Plain yogurt or sour cream – ¼ cup (60 ml)
• Chopped fresh mint – 2 table spoons (30 ml)
• Ground blanched almonds – 3 table spoons (45 ml)
• Cardamom seeds, crushed – ¼ teaspoon (1 ml)
• Orange or lemon juice – 2 table spoons (30 ml)
• Cored and diced – 3 medium-sized apples
• Seedless grapes, halved – ½ cup (120 ml)
Preparation
1) Blend the yogurt or sour cream, mint, almonds, cardamom seeds and orange or lemon juice in a mixing bowl.
2) Fold in the apples and grapes, cover, and chill for at least ½ hour before serving.
Serves:
6
By Yanuma Devi Dasi