Baby Corn Manchurian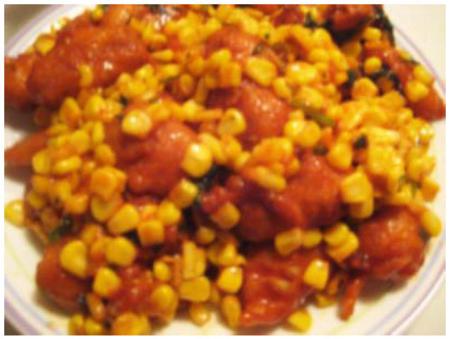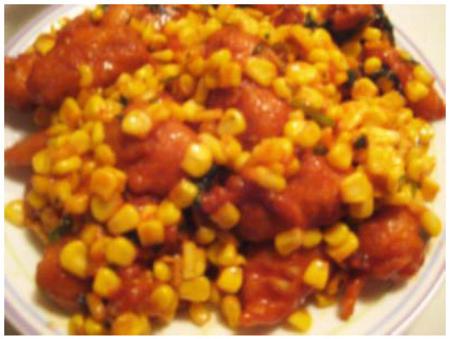 •

Baby Corn – 8 oz


•
Maida/All purpose flour – 1/2 cup

•
Besan Flour/Gram flour – 1/2 cup

•
Boiled Corn – 1 cup Ginger Paste – 1 tsp

•
Green Chilies – 3, 4 chopped

•
Pepper Powder – 1/4 tsp

•
Baking Soda – 1/4 tsp

•
Salt – acc to taste

•
Soy Sauce – 1 tsp

•
Vinegar – 1 tsp

•
Oil – for frying

•
Tomato Mint Sauce – 2 tsp
1.Boil baby corn in water for 4 Min's. Drain water completel and keep aside.
2.In a bowl add maida, gram flour, salt, baking soda and mix well resembling the consistency of heavy cream. Heat oil in a deep frying pan. When oil is hot, dip the baby corn in the batter prepared and deep fry until golden brown. Keep aside. In a fry pan add oil, ginger paste, green chilies, pepper powder and fry until it leaves oil to the sides. Add soy  sauce and vinegar.
3.Add boiled corn to the above mixture and toss it for a while. Add fried baby corn and stir. Garnish with cilantro and serve hot. I added tomato mint sauce finally.
Note :
Instead of besan flour you can use corn flour.
By Vaidehi