Badam Nankatai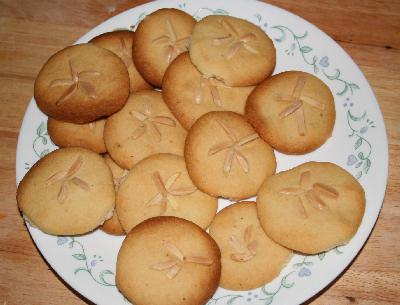 Ingredients
• Powdered almonds – ¼ cup
• Stick butter – 1 ½
• All purpose flour – 2 cups
• Powdered sugar – 1 cup
• Cardamom powder – 1 tsp
• Salt – ¼ tsp
• Almond pieces for decoration
Preparation
1. Beat the butter and the sugar together.
2. Once it's well mixed add the all purpose flour and mix well.
3. Then add the almond powder, cardamom powder and salt. Again Mix it well.
4. Prepare soft dough. You can add a few drops of water if the dough is very coarse.
5. Alternatively if it's too sticky, you can keep it in the refrigerator covered in a plastic wrap for 15 minutes.
6. Make flat circles and arrange them on a cookie sheet.
7. Decorate with almond slivers and bake at 350 degrees for about 10 to 15 minutes.
8. Turn off the oven and let the cookies sit inside till the tops are slightly brown and then remove from the oven.
9. Badam Nankatai is ready. Serve them.
Serves
5-6 Persons
By Bhaktin Ranjana