Quick Cream of Split Pea Soup with Sliced carrots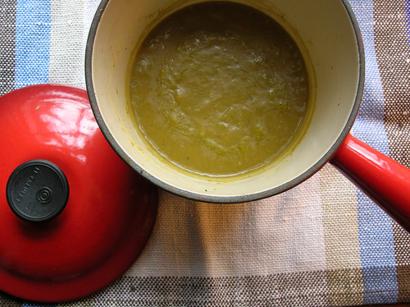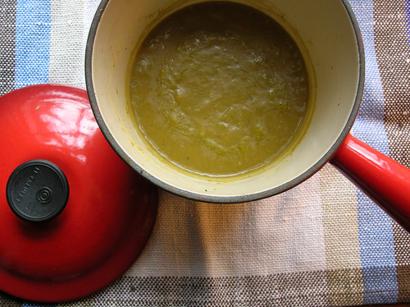 Here is an elegant, mildly seasoned dal soup that is good the whole year round. The ingredients are easily obtained, and the texture is light and pleasant. Yellow or green split peas are transformed into a smooth, creamy soup, and sliced carrots lend color and nutrition.
Dal soaking time: 5 hours
Preparation time (after assembling ingredients): 10 minutes
Cooking time: 1 ½ hours or 30 minutes in a pressure cooker
Ingredients
• Yellow or green split peas – 1 cup (210 g)
• Water (6 ¾ cups/1.5 liters if pressure cooked) – 7 ½ cups (1.75 liters)
• Scraped, minced fresh ginger root – 1 teaspoon (5 ml)
• Hot green chilies – 1-2
• Turmeric – ½ teaspoon (2 ml)
• Ground coriander – 1 table spoon (15 ml)
• Ghee or a mixture of vegetable oil and unsalted butter – 4 table spoons (60 ml)
• Scrapped carrots, sliced – 4 medium-sized
• Salt – 1 ¼ teaspoons (6 ml)
• Minced fresh parsley or coarsely chopped coriander – 2 table spoons (30 ml)
• Cumin seeds – 1 ¼ teaspoons (6 ml)
• Yellow asafetida powder (hing) – ¼ – ½ teaspoon (1-2 ml)
Note: This amount applies only to yellow cobra brand. Reduce any other asafetida by three-fourths.
Preparation
1. Soak the split peas in 3 cups (710 ml) of hot water for 5 hours, then drain.
2. Combine the split peas, water, ginger root, green chilies, turmeric, ground coriander and a dab of the ghee or oil-butter mixture in a heavy 3-quart/liter nonstick saucepan. Bring to a boil over high heat.
3. Reduce the heat to moderately low, cover with a tight-fitting lid and boil gently for 1 hour. Add the carrots cover and continue to cook for 30 minutes or until the split peas are soft and fully cooked. For pressure cooking, combine the ingredients in a 6-quart/liter pressure cooker, cover and cook for 30 minutes under pressure. Remove from the heat and let the pressure drop by itself.
4. Off the heat, uncover and stir in the salt and herb.
5. Heat the remaining ghee or oil-butter mixture in a small saucepan over moderate to moderately high heat. When it is hot, toss in the cumin seeds and fry until they turn brown. Sprinkle in the asafetida and fry for just 1-2 more seconds, then quickly pour the fried seasonings into the dal.
6. Cover immediately and allow the chaunk to soak into the dal fro 1-2 minutes. Stir and serve.
Serves
6 to 8
By Yamuna Devi Dasi