Birchermuesli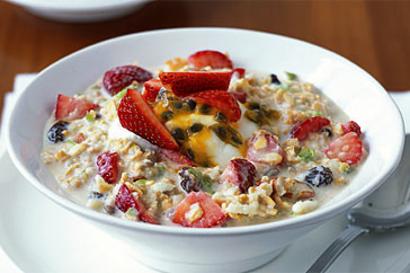 Ingredients:
• Rolled oats (not instant) soaked in 1 cup of water overnight – 2/3 cup
• Lemon juice – 1½
• Unwaxed apples – 4
• Each of freshly ground almonds and hazelnuts – 4 tbsp
• Yogurt – 2/3 cup
• Honey – 4 tbsp
• Fresh seasonal fruits like peaches, apricots, bananas, melons or mango, sliced or Chopped, to taste,
• Fresh seasonal berries like raspberries, strawberries or blueberries, to taste.
Preparation:
1. Place the soaked oats and whatever residual water remains with them in a large bowl along with the lemon juice.
2. Grate the un-peeled apples, and mix them into the oats and lemon to avoid discolouration.
3. Add the nuts, yogurt and honey and combine. Carefully fold in the sliced or chopped fruit.
4. Serve: transfer to serving bowls and decorate with berries.
By Kurma