Curry Puffs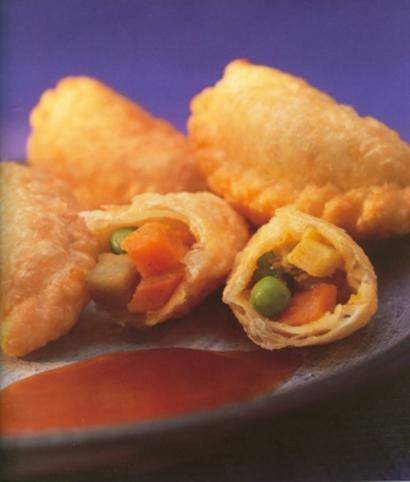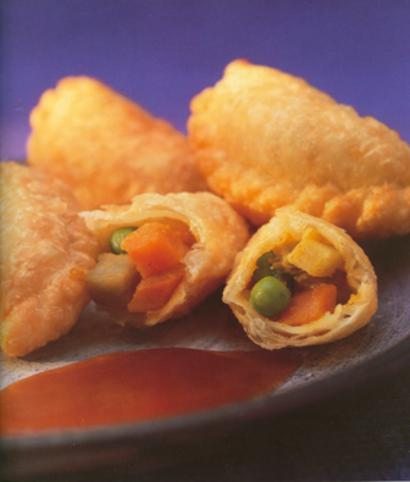 Ingredients:
• Sweet potato, diced very small – 1 cup
• Carrot, diced very small – 1 cup
• Potato, diced very small – 1 cup
• Peas – 1 cup
• Oil – 2 tbsp
• Fresh curry leaves from 3 large sprigs, torn
• Grated fresh ginger – 1 tbsp
• Yellow asafetida powder – ½ tsp
• Malaysian hot curry powder – 2 tbsp
• Sugar – 2 tsp
• Salt – 1 tsp
• Sheets ready made puff or shortcrust pastry – 5
• Oil for deep frying
Preparation:
The Filling:
1. Steam the vegetables separately until tender. Drain.
2. Heat the oil in a frying pan over moderate heat. When the oil is hot, drop in the curry leaves and fry until they crackle, then sprinkle in the ginger, fry for 1 minute or until aromatic, then add the yellow asafetida powder and fry momentarily.
3. Stir in the curry powder, all the cooked vegetables, the sugar and the salt. Fry together for 1 or 2 minutes then remove from the heat. Allow the mixture to cool.
The Puffs:
1. Cut the sheets of puff pastry into 9 squares.
2. Place 2 teaspoons of cooled filling in the centre of each square. Fold into triangles and seal, leaving the edge plain, pressed with fork tines, or with a decorative pinched and fluted edge.
3. Heat the oil for deep-frying in a wok or deep frying pan over moderate heat until fairly hot.
4. Fry the puffs in batches for 2 or 3 minutes or until puffed and golden brown. Remove and drain on paper towels. Serve hot, warm or cold with an accompanying tamarind chutney, or sweet chili sauce.
By kurma