Dahi Vada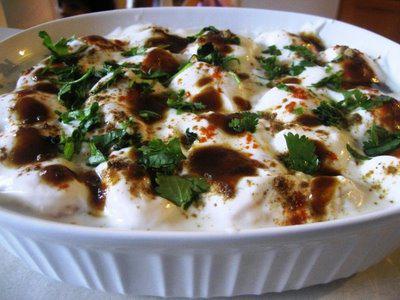 Ingredients
For Vada:
• Green grams dhal (moong dhal split) – 200 gms
• Plain yogurt – 250 gms
• Red chili powder – 1 tsp
• Green chili paste – 2-3
• Cumin seeds powder – 2 tbsp
• Salt – as required
• Cilantro leaves – ¼ cup
• Oil for frying
For Chutney:
• Date – 500 gms
• Salt – as required
• Red chili powder – 1 tsp
Preparation
For Chutney:
1. Remove the seeds from date.
2. Then put date and little water in a pot.
3. Grind it for 2 minutes till the chutney becomes soft.
4. Then add little chili powder to it.
For Vada:
1. Soak green grams for 3-4 hours.
2. Wash and remove the green skin.
3. Grind it on the stone to make soft vada.
4. Add salt and green chili paste, mix well and fry vadas in oil.
5. Do not keep the batter, for longer time. Prepare at once.
6. After frying put this vadas in luke – warm water.
7. Squeeze out water and arrange vadas in a plate.
8. Spread plain yogurt, date chutney, salt, red chili powder, cumin seeds on the vada.
9. Garnish with cilantro leaves and serve.
Serves
4 Persons
By Bhaktin Mallika