Fresh Fig Conserve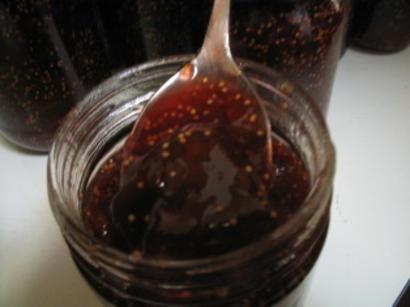 Ingredients:
• Fresh ripe figs – 1kg
• Sugar – 4 scant cups
• Lemon juice, about 2 large lemons – 1⁄3 cup
• Packed lemon zest – 2 tsp
• Water, if required – 2 tbsp
Preparation:
1. Wash the figs and cut off their tips. If the figs are small, cut them in half; if they are large, cut them in quarters.
2. Spread the sugar on a tray and heat it in a pre-heated hot oven, taking care not to burn it.
3. Place the figs in a 5-litre/quart saucepan along with the lemon zest and lemon juice over moderate heat. Bring them to the boil and cook them for about 10 minutes, or until they soften and the syrup darkens to a rich red colour. Do not stir them, and do not allow the figs to break up. You may need to add a little water.
4. Remove the sugar from the oven, and gently stir it into the figs, being careful not to rupture them. When the sugar has dissolved, bring the mixture to a rapid boil and, without stirring, cook for another 10 minutes, or until the setting point is reached. Carefully ladle the conserve into sterilised jars.
By Kurma