Spiced Chickpea salad with Spinach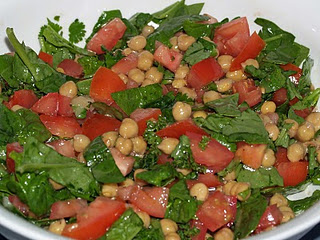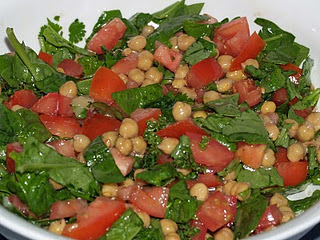 As an alternative to spinach, try red or green Swiss chard leaves-they are delicious. Because chard is not as tender as spinach, blanch or steam it for a minute or two before assembling the salad.
Soaking time: 8 hours or overnight
Cooking time: (after assembling ingredients): about 2 hours
Ingredients
• Chickpeas, soaked in water 8 hours or overnight, then drained – 1 ½ cups (290 g)
• Black mustard seeds – 1 teaspoon (5 ml)
• Celery seeds – ½ teaspoon (2 ml)
• Lemon juice – 4 table spoons (60 ml)
• Olive or nut oil – 6 table spoons (90 ml)
• Cayenne pepper or paprika – Scant ½ teaspoon (2 ml)
• Yellow asafetida powder (hing) – ¼ teaspoon (1 ml)
• Tomato paste – 2 table spoons (30 ml)
• Maple syrup or honey – 2 table spoons (30 ml)
• Salt – ½ teaspoon (2 ml)
• Freshly ground pepper – ¼ teaspoon (1 ml)
• Ripe tomato, diced – 1 large
• Cucumber, peeled, halved, seeded and diced – 1 small
• Yellow bell pepper, seeded, and diced – ½
• Fresh spinach, washed, trimmed, coarsely chopped and patted dry – ½ pound (230 g)
Note: This amount applies only to yellow Cobra brand. Reduce any other asafetida by three-fourths.
Preparation
1. Place the chickpeas in a heavy saucepan with 4 cups (1 liter) of water and simmer over low heat for 1 ½ -2 hours or just until tender. Keep an eye on the chickpeas during the last ½ hour to prevent them from overcooking. Drain and let cool.
2. Crush the mustard seeds and celery seeds with a mortar and pestel. Place them in a salad bowl with the lemon juice, oil, cayenne or paprika, asafetida, tomato paste, sweetener, salt and pepper, and beat with a fork or wire whisk until emulsified. Add the chickpeas, tomato, cucumber and bell pepper. Gently toss, cover and chill for 2-4 hours. Thirty minutes before serving, remove the salad from the refrigerator. Add the spinach, toss, and bring back to room temperature.
Serves
6
By Yamuna Devi Dasi