Fried Okra in Smooth Yogurt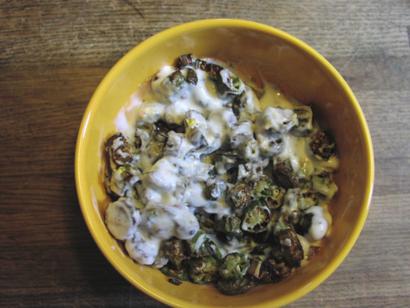 Chilled yogurt salads are popular throughout India, and in Gujarati homes they are served with almost every summer lunch. This became one of my favorite dishes from the first time I tasted its delightful combination of textures and flavors. Though the ingredients can be prepared ahead of time, the salad is assembled just before serving. Crunchy fried okra is added to a toasted chickpea flour and yogurt sauce. The creamy sauce is seasoned with roasted cumin seeds and fresh coriander or parsley, and finally garnished with a dash of paprika. Since the okra softens as it sits in the sauce, and the chickpea flour both thickens and darkens the color, it can also double as a creamy room-temperature vegetable dish.
Preparation and cooking time (after assembling ingredients): about 30 minutes

Ingredients
• Ghee or vegetable oil for shallow-frying
• Okra, washed, thoroughly dried, trimmed and cut into 1/4 –inch (6 mm) slices (about 1 ¼ cups/300 ml) – 1 pound (455 g)
• Garam masala – 1 teaspoon (5 ml)
• Paprika or cayenne pepper – ¼ teaspoon (1 ml)
• Ground coriander – ½ table spoon (2 ml)
• Salt – 1 teaspoon (5 ml)
• Plain yogurt, or 1 ¾ cups (420 ml) plain yogurt and ¼ cup (60 ml) sour cream -2 cups (480 ml)
• Dry-roasted coarsely crushed cumin seeds – ½ table spoon (7 ml)
• Chopped fresh coriander or parsley – 1 teaspoon (5 ml)
• Sifted chickpea flour (sifted before measuring) – 3 table spoons (45 ml)

Preparation
1. Pour the ghee or oil to a depth of 1 inch (2.5 cm) in an 8-inch (20 cm) frying pan. Set over moderate heat, and when it is hot but not smoking, add the sliced okra. Fry for 15-20 minutes or until crisp and browned. Remove with a slotted spoon and drain on paper towels. While the okra is hot, sprinkle it with garam masala, paprika or cayenne, ground coriander and ½ teaspoon (2 ml) of the salt. Toss to mix.
2. Place the yogurt or yogurt and sour cream in a 1-quart/liter bowl and add the remaining ½ teaspoon (2 ml) salt and all but ½ teaspoon (2 ml) each of the cumin seeds and fresh herbs. Whisk with a fork until smooth and creamy.
3. Dry-roast the chickpea flour in a small heavy pan over moderate heat, stirring constantly to prevent scorching. When it darkens a few shades and smells nutty, transfer to a bowl to cool.
4. If you do these steps 1-2 hours ahead of assembling the salad, refrigerate the yogurt and leave the okra uncovered in a 200 F (95 C) oven. Before serving, add the okra to the yogurt, sprinkle with the chickpea flour, and gently stir. Transfer to a serving dish or individual bowls, garnish with the remaining cumin seeds and fresh herbs and a dash of paprika, and serve immediately.

By Yamuna Devi Dasi