Green beans in Yogurt-Poppy Seed Sauce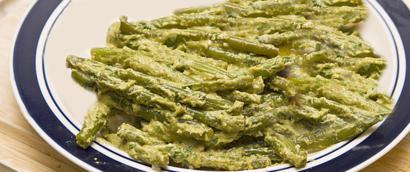 These beans can be cooked quite some time before needed and the final cooking completed just before serving. They are warmed in a velvety yogurt sauce made rich with pureed white poppy seeds or cashews.
Preparation time (after assembling ingredients): 10 minutes
Cooking time: 5 minutes
Ingredients
• White poppy seeds or chopped cashews – 3 table spoons (45 ml)
• Hot green chilies (or as desired) – 2
• Fresh ginger root, scraped and coarsely chopped – ½-inch (1.5 cm) piece
• Cumin seeds – ½ teaspoon (2 ml)
• Coarsely chopped fresh coriander or parsley – ¼ cup (60 ml)
• Plain yogurt – ¾ cup (180 ml)
• Green beans, trimmed, cut into 3-inch (7.5 cm) pieces and steamed until tender-crisp – 1 pound (455 g)
• Ghee or unsalted butter – 3 table spoons (45 ml)
• Curry leaves, preferably fresh or ½ cassia or bay leaf – 6
• Freshly ground nutmeg – ¼ teaspoon (1 ml)

Preparation
1. Put the poppy seeds or cashews in a food processor or blender, cover and pulse until powdered. Add the chilies, ginger, cumin, half of the fresh herb and the yogurt. Process until creamy smooth, then combine with the green beans in a bowl and toss well.
2.
To assemble the dish, heat the ghee or butter in a large heavy-bottomed frying pan over moderate heat. Drop in the curry leaves or bay leaf and let sizzle for a few seconds. Pour in the beans and sauce, salt and nutmeg. Stir-fry until the sauce thickens, either slightly or until almost dry. Serve with the remaining herb, piping hot, at room temperature or chilled.
Serves
4 or 5

By Yamuna Devi Dasi