Griddle Baked Cauliflower Flatbreads(gobi paratha)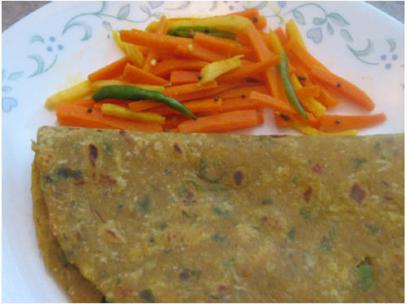 Ingredients
•2 C chapati flour
•1½ C finely grated cabbage
•1 Tsp salt
•1 Tbsp ginger, grated
•2 green chilies
•2 Tbsp chopped fresh coriander leaves
•1 Tsp dried fenugreek leaves (kasuri methi)
•¼ Tsp turmeric powder
•1 Tsp cumin powder
•¼ Tsp red chili powder
•1 Tsp nigella seeds (kalonji seeds)
•1½ Tsp garam masala
•2 Tbsp ghee/oil
•¾ -1 C water (or as needed)
•Extra flour for dusting
•Ghee/oil for cooking the flatbreads (or parathas)
Preparation
1.In a mixing bowl, combine the flour, cauliflower, salt, ginger, green chilies, coriander leaves and fenugreek leaves. Add all the spices and mix well. Stir in the ghee/oil. Add enough water to make non-sticky dough.
2.Preheat the griddle or tava over moderately high heat.
3.Divide the dough into 8 balls. On a floured surface, roll each ball into 6 inch wide discs using the rolling pin. Sprinkle some flour if the dough sticks to the work surface while rolling.
4.When the griddle is hot, spray the surface with little ghee/oil, and transfer the disc of dough to the griddle. When the top surface shows some bubbles, turn it over and cook on reverse side. Now, sprinkle some ghee/oil over the top of the disc and cook for 30-40 seconds. Turn again and drizzle ghee/oil on this surface too. Press around the edges. The paratha is done when both the sides are golden brown in color.
5.Serve hot with pickled carrots.
Yield
8 Parathas
By Anand Lila Devi Dasi