Key Lime Sandwich Cookies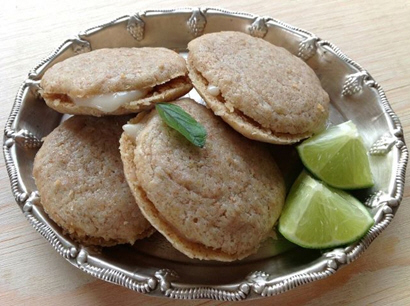 Ingredients
• 6 tablespoons ghee or unsalted butter
• 1/3 cup sugar
• 1/4 teaspoon vanilla extract
• 1 cup all purpose flour
• 3 tablespoons buttermilk
• 1 1/2 packed teaspoons finely grated lemon zest
• 1/8 teaspoon salt
• 1/2 cup confectioners sugar
• 2 tablespoons lemon juice
Procedures
1. In a large bowl, beat together butter and sugar until light and fluffy.
2. Add flour and beat until dough begins to form. Add buttermilk. Beat in zest and salt until dough comes together. Divide dough into two parts. Roll each part into a log that is 1.5 inches wide. Wrap each log in plastic wrap. Let dough chill in refrigerator for 30 minutes.
3. Preheat oven to 350°F. Line two baking sheets with parchment paper.
4. Take dough out of refrigerator and cut into 1/4 inch thick slices. Arrange cookies on baking sheets and bake until dry and turning golden, about 15 minutes.
5. In a small bowl, whisk together confectioners sugar and lemon juice.
6. When cookies are cool enough to handle, fill the back of cookie with some lemon frosting and place another cookie on top to make a cookie sandwich.
By Bhaktin Christina
Source : https://www.facebook.com/KrsnasTreatsAndInspiringIdeas