Spinach Triangles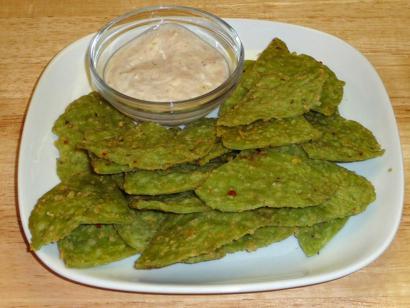 Ingredients
• All purpose flour (maida, plain flour) – 1 cup
• Semolina (fine sooji) – ½ cup
• Salt – ½ tsp
• Baking soda – ¼ tsp
• Butter – 3 tbsp
• Cumin seeds – ½ tsp
• Chili flakes – ½ tsp
• Grated cheese – 3-4 tsp
• Spinach puree – ¾ cup
• Oil to fry
Preparation
1. Mix all purpose flour, semolina, salt, chili flakes, cumin seeds, and baking soda in a bowl together.
2. Add the butter and parmesan cheese, mix well it will be consistency of bread crumb.
3. Add the spinach puree and make firm dough.
4. Set the dough aside and cover it with a damp cloth. Let the dough rest for at least ten minutes.
5. Divide the dough in 16 equal parts and make them into balls.
6. Roll the dough about into a 5-inch circle.
7. Slice each roll dough in 4 pieces in triangle shape.
8. Heat oil in a frying pan on medium heat. The frying pan should have at least 1 ½ inch of oil. (To check if the oil is ready, put a small piece of dough in the oil. The dough should make the oil sizzle and come up slowly.)
9. Make sure to place just enough chips so you can turn them over easily when frying.
10. Fry the chips until both sides are light golden in color.
11. Remove from oil and let it cool for sometime so it becomes crispier.
12. Then serve it with chutney.
Serves
3-4 Persons
By Bhaktin Ranjana