Khara Pongal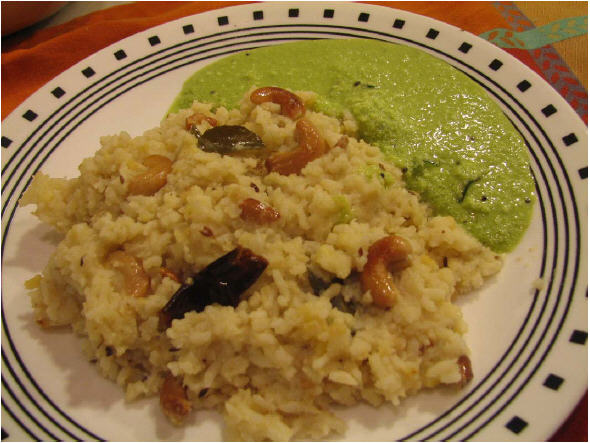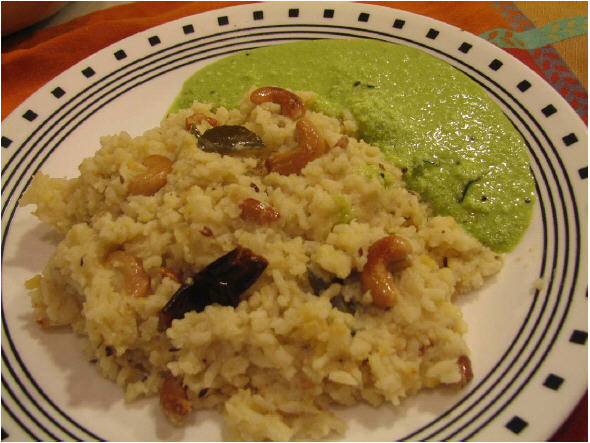 •1½ C rice
•½ C moong dal
•1/3 C ghee
•1 Tsp cumin seeds
•½ tsp yellow asafetida powder
•1 Tbsp finely grated ginger
•5-6 peppercorns
•2 dry red chilies
•1 sprig fresh curry leaves
•6 C water
•1½ Tsp salt
•2 Tbsp cashews
1.Heat a pan over moderate heat. Dry roast the rice and dal until lightly golden. Remove pan from heat and cool the grains.
2.Wash the rice and dal and drain.
3.Heat 1 Tbsp ghee in a saucepan over moderately high heat. Add cumin, when they darken a dew shades, sprinkle asafetida. Add ginger, peppercorns, chilies and curry leaves. Stir fry all the spices for a while. Add the rice and dal, and saute for 1 minute. Pour the water and add salt. Cook until the grains are fully softened. (alternately you can pressure cook)
4.Heat 1 Tbsp of ghee in a small pan and saute the cashews until golden. Add to the pongal. Add the remaining ghee overtop. Serve hot with coconut-coriander chutney.
4-5
By Anand Lila Devi Dasi