Mawa gujiya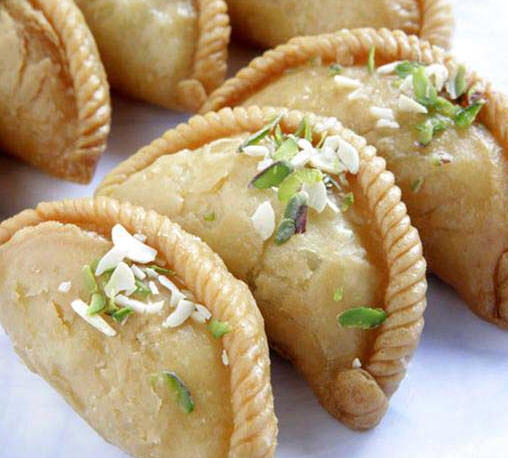 Ingredients-
Khoya crumbled 2/3 cup
Refined Flour 1 cup
Ghee 3 teaspoons
Oil to deep fry
Dried figs chopped 1/2 cup
Seedless dates chopped 1/2 cup
Cashewnuts chopped 10
Almonds chopped 10
Walnuts chopped 10
Preperation –
1) For the pastry, sift the flour into a bowl and rub in the ghee with your fingertips till the mixture resembles breadcrumbs. Add one-fourth cup and one tablespoon of cold water and knead into a stiff dough. Cover with piece of damp muslin and set aside for fifteen minutes. For the filling, heat a non-stick pan; add the khoya and sauté for three minutes or till the fat separates. Set aside to cool.
2) Add the figs, dates, cashew nuts, almonds and walnuts, and mix well. Divide into twelve equal portions.
3) Divide the dough into twelve equal portions and shape into balls. Roll out each ball into a puri.
4) Place one portion of the stuffing on one half of the puri, lightly moisten the edges, fold the other half over the stuffing and press the edges to seal. Pinch the edges to make a design.
5) Heat sufficient oil in a non-stick kadai; gently slide in a few gujiya at a time, and deep-fry for five to six minutes or till golden brown.
6) Drain on absorbent paper and store in an airtight container when completely cold.
By Neha Kaul