Banana Muffins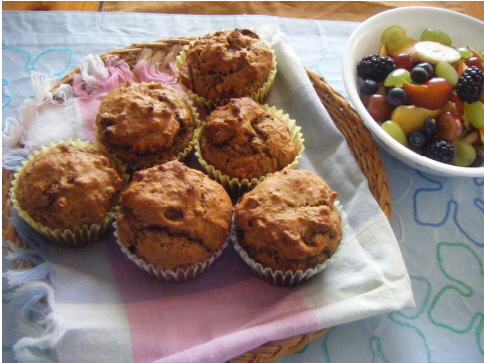 •1 1/2 cup flour (whole wheat pastry flour is preferred)
•1/3 cup brown sugar
•¾ cup mashed banana (about 2 big ones)
•¼ tsp salt
•1 tbsp flaxseed meal, mixed with 3 tbsp warm water
•½ cup chopped nuts
•¼ cup raisins
•1 tsp vanilla extract
•1/4 cup butter, melted or 1/4 cup oil
•2 tsp baking powder
1)Preheat the oven at 400F. Line paper cups or coat 12 muffin cups with non‐stick spray.
2)Mix all dry ingredients in a medium bowl. In a small bowl, mix mashed banana, oil/butter, sugar, and flaxseed mixture. Combine both dry and wet ingredients and add nuts and raisins.
3)Mix well but not overmix.
4)Divide the batter among the prepared muffin cups. Bake for 15 minutes. Cool in the pan for 10 minutes then transfer to a wire rack.
12
By Madhavi Devi Dasi