Nutritious Whole Grain, Split Pea and Vegetable Soup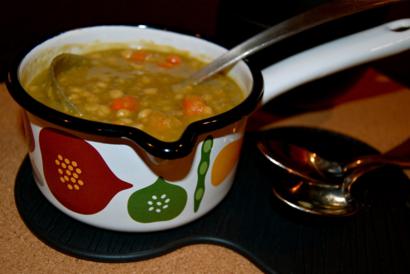 This is a quick pressure-cooker soup that is warming, nutritious and very welcome on cold winter days. You can vary this recipe by substituting Parsnips, green beans, zucchini or corn for any of the suggested vegetables. A nice stew can be obtained by adding large, even-sized pieces of potato or winter squash. (You will need to increase the amount of water a bit when cooking these starchy vegetables). Try your own favourite combinations according to the season and time of day. You can get whole grains and split peas at most health food stores and co-ops, so the next time you are out shopping pick up a pound (455 g) each of whole barley, wheat, rye, brown rice, millet and split peas. At the rate of only 1-2 table spoons (15-30 ml) per pot of soup, you will be able to stretch these wholesome ingredients over many meals. This soup is a meal in itself, and it is also goes especially well with buttered steamed Rice, a bowl of home mate Yogurt and a tossed green salad.
Grain and dal soaking time: 2 hours
Preparation time (after assembling ingredients): 5 minutes
Cooking time: 25 minutes in a pressure cooker
Ingredients
• Barley, wheat, rye, brown rice, wild rice, millet and split peas – 2 table spoons (30 ml)
• Water – 7 cups (1.75 liters)
• Carrot scraped and cut into ¼ -inch (6 mm) rounds – 1 medium-sized
• Celery stalk and leaves, sliced – 1 medium-sized
• Firm ripe tomato, cut into 8 pieces a generous handful of spinach (about 1 ounce/30 g), washed, dried, stemmed and coarsely chopped – 1 large
• Scraped, finely shredded or minced fresh ginger root – ½ table spoon (7 ml)
• Minced seeded hot green chili (or as desired) – 1 teaspoon (5 ml)
• Turmeric – 1 teaspoon (5 ml)
• Ground coriander – ½ table spoon (7 ml)
• Salt – 1 ½ teaspoons (7 ml)
• Minced fresh parsley or coarsely chopped coriander – 2 table spoons (30 ml)
• Ghee or vegetable oil – 4 table spoons (60 ml)
• Cumin seeds – 1 teaspoon (5 ml)
Preparation
1. Mix together the grains and split peas and soak in hot water for 2 hours
2. Combine them with the remaining ingredients except the salt, parsley or coriander, 2 table spoons (30 ml) of the ghee or vegetable oil and the cumin seeds in a 6-quart/liter pressure cooker. Cover and cook under pressure for 20 minutes. Remove the pan from the heat and allow the pressure to drop. Uncover and stir in the salt and herb.
3. Heat the remaining 2 table spoons (30 ml) of ghee or vegetable oil over moderate heat in a small saucepan. When it is hot, add the cumin seeds and fry until they are brown. Pour them into the soup and cover immediately. Allow the seasonings to soak into the hot dal for 1-2 minutes. Stir and serve.
Serves
6 to 8
By Yamuna Devi Dasi