Pan-Fried Whole Bitter Melons with cashew stuffing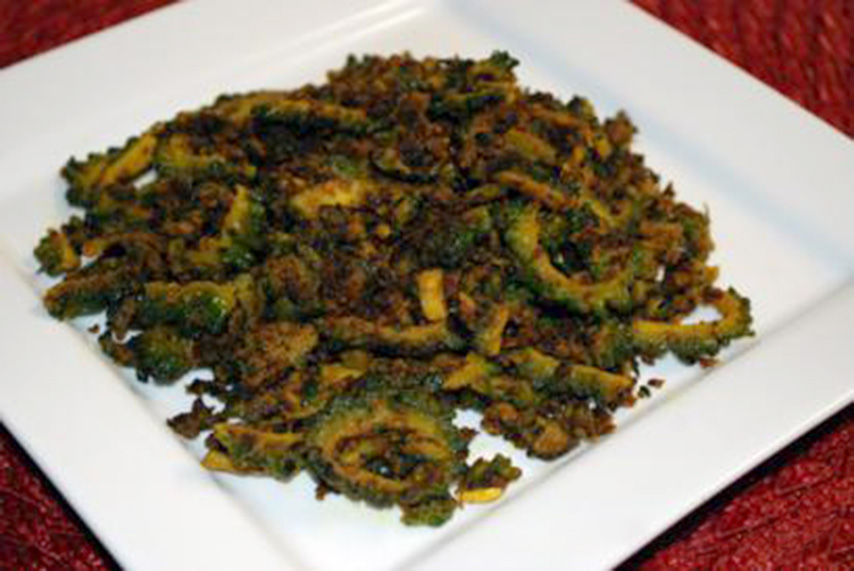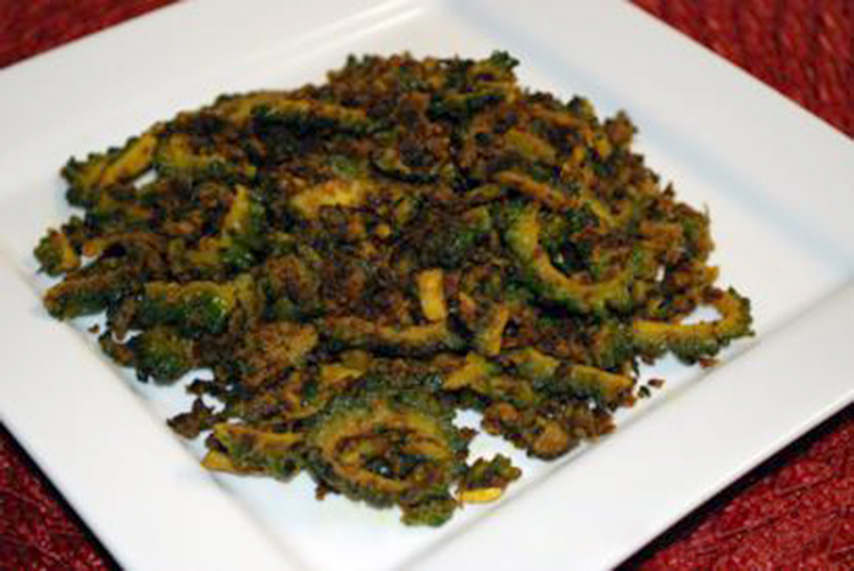 Salting and preparation time: about 1 hour
Cooking time: 30 minutes
Ingredients
• Baby bitter melons (about 12 ounces/340 g each), 2 ½ -3 inches (6.5-7.5 cm) long – 8
• Salt – 1 ½ table spoons (22 ml)
• Sugar – ½ table spoon (7 ml)
• Water – 3cups (710 ml)
• Cashew halves, blanched almonds or hazelnuts – ½ cup (75 g)
• Shredded fresh coconut Or shredded frozen coconut, defrosted – 3 table spoons (45 ml)
• Dark brown sugar – ½ table spoon (7 ml)
• Fennel seeds – ½ teaspoon (2 ml)
• Cumin seeds – 1 teaspoon (5 ml)
• Coriander seeds – 1 table spoon (15 ml)
• Turmeric – ½ teaspoon (2 ml)
• Cayenne pepper or paprika – ¼ teaspoon (1 ml)
• plain yogurt – ¼ cup (60 ml)
• Ghee or vegetable oil – 5 table spoons (75 ml)
• Lime wedges for garnishing

Preparation
1. Wash and dry the bitter melons. With a sharp paring knife, slit lengthwise, cutting halfway through each. Using a small melon baler, scoop out the pulp and seeds and discard. Rub each melon inside and out with salt and sugar, and set aside for 30 minutes. Bring the water to a boil in a 2-quart/liter saucepan and partially cook for 10 minutes. Remove them with a slotted spoon and plunge into cold water. After cooling for 5 minutes, drain and pat thoroughly dry, inside and out.
2. To make the stuffing, place the nuts, coconut, brown sugar, fennel seeds, cumin seeds and coriander seeds in a blender or food processor fitted with a metal blade. Cover and pulse until the nuts are powdered. Transfer to a bowl and add the turmeric, cayenne or paprika and enough of the yogurt to make a moist stuffing. Divide into 8 portions.
3. Using a butter knife, stuff each bitter melon, handling them carefully to avoid tearing the uncut side. Press the two cut melon edges together until they meet, then bind each one closed, wrapping them from one end to the other 5 or 6 times around with ordinary white sewing thread.
4. Heat the ghee or oil in a 8-9 inch (20-22.5 cm) frying pan over moderate heat. When it is hot but not smoking, add the melons in a single layer. After 2 minutes, reduce the heat slightly, then pan-fry, turning them as they brown, so that they are crisp and richly colored, about 20-25 minutes.
5. Remove with a slotted spoon and drain on paper towels. Snip the thread and unwind, removing all loose pieces. Serve hot and crispy with lime wedges.

Makes:
8 stuffed bitter melons
By Yamuna Devi Dasi