Potato Pakora with Dried Pomegranate Seeds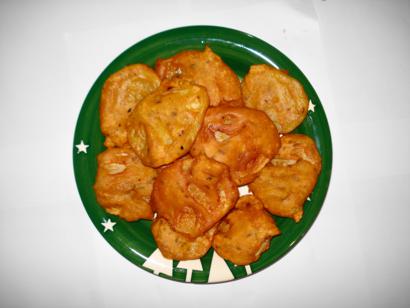 Pomegranate seeds, used predominantly in North Indian cooking, are dried from wild pomegranate or daru that grow in the Himalayan foothills. The pleasantly sour flavors of the seeds are best for complementing potatoes and other starchy vegetables. Potato slices are handsomely jacketed in a medium-consistency batter that puts a crunchy crust on the soft potatoes. The food processor crushes the seeds while whisking the batter until it is light and airy. This is one pakora that lends itself to double-frying: the first frying may be done several hours before serving time, the second one warms the thin fritters and gives them their final crunch.
Preparation time (after assembling ingredients): 10 minutes
Resting time: 10-15 minutes
Cooking time: 30 minutes
Ingredients
• Sifted chick pea flour (sifted before measuring) – 1 ½ cups (135 g)
• Melted ghee or vegetable oil – 2 teaspoons (10 ml)
• Dried pomegranate seeds – ½ table spoon (7 ml)
• Cayenne pepper or paprika – ¼ teaspoon (1 ml)
• Turmeric – ¼ teaspoon (1 ml)
• Salt – 1 ½ teaspoons (7 ml)
• Cold water, or enough to make a medium-consistency batter – Up to 9 table spoons (135 ml)
• Baking potato (about ½ pound/230 g), peeled, cut into a rectangle and sliced 1/8 inch (3 mm) thick (cut just before frying) – 1 large
• Ghee or vegetable oil for deep-frying
Preparation
1. Place the flour, melted ghee or oil, pomegranate seeds, cayenne or paprika, turmeric and salt in a blender or a food processor fitted with the metal blade. Pulse on and off 3 or 4 times. With the machine running, slowly pour in ½ cup (120 ml) of water and process for 2-3 minutes until smooth and airy. In 1 teaspoon (5 ml) amounts, add water until the batter consistency is similar to heavy cream. Transfer to a bowl, cover and set for 10-15 minutes. (Check the batter consistency: if it is too thin, moist foods will spatter as they fry; if it is too thick, they will not cook properly. Add flour or water as necessary).
2. Place the sliced potatoes (about 30 -35 pieces), a bowl of water, tea towels and paper towels for draining near the stove. Heat the ghee or vegetable oil in a karai, wok or deep-frying pan until the temperature reaches 355 F (180 C). Fry 6-7 potato pakoras at a time, maintaining the temperature at 345-355 F (273-180 C), for about 2 minutes per side if you will be serving them later, or 4-5 minutes per side until golden brown if you are frying them for serving now. Remove with a slotted spoon and drain on paper towels. If not serving immediately, fry a second time for about 2 minutes or until hot, crispy and golden brown. Serve hot.
Note: after batter-dipping each batch of the potato rounds, rinse your hands and dry with a tea towel before you continue frying.
Serves
6 as a snack or 8 at a meal
By Yamuna Devi Dasi