Pumpkin pakora with Crushed Coriander Seeds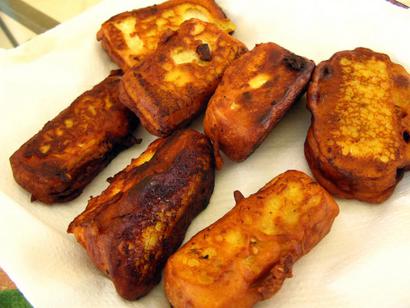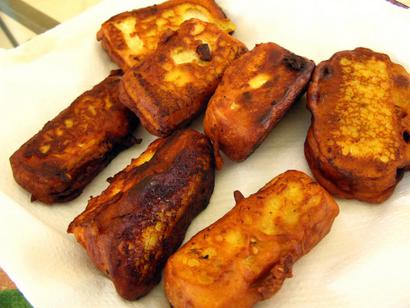 Any type of winter squash butternut, acorn, turban or Indian wax gourd (petha) as well as yams or sweet potatoes may be substituted for pumpkin. This is a good batter to make in a food processor, for along with crushing while coriander seeds, the processor makes the batter light and smooth. If you make the batter by hand, add freshly crushed coriander seeds.
Preparation time (after assembling ingredients): 10 minutes
Resting time: 10-15 minutes
Cooking time: 30 minutes
Ingredients
• Sifted chick pea flour (sifted before measuring) – 1 ½ cups (135 g)
• Salt – 1 ½ -2 teaspoons (7-10 ml)
• Melted ghee or vegetable oil – 2 teaspoons (10 ml)
• Turmeric – ½ teaspoons (2 ml)
• Yellow asafetida powder (hing) – ¼ teaspoon (1 ml)
• Crushed coriander seeds – 1 table spoon (15 ml)
• Yogurt – 2 table spoons (30 ml)
• Cold water, or enough to make a battle of medium consistency – ½ cup (120 ml)
• Baking powder (optional) – ¼ teaspoon (1 ml)
• Trimmed, peeled ripe pumpkin cut into 2-inch (5 cm) squares ¼ inch (6 mm) thick – 25-35 pieces
• Ghee or vegetable oil for deep-frying
Note: This amount applies only to yellow Cobra brand. Reduce any other asafetida by three-fourths.
Preparation
1. Place the flour, salt, melted ghee or vegetable oil, turmeric, asafetida, crushed coriander seeds and yogurt in a bowl and mix well. Add ½ cup (120 ml) of water slowly, beating with an electric beater or wire whisk until the batter is smooth and easily coats a wooden spoon. Alternately, place the batter ingredients in a food processor fitted with the metal blade, or a blender, and process until the coriander seeds are crushed and the texture is smooth, then transfer to a bowl. Cover the batter and set aside for 10-15 minutes.
2. Again beat with an electric beater, wire whisk or your hand for 2-3 minutes to further lighten the batter. (check the batter consistency: if it is too thin, moist foods will spatter as they fry; if it is too thick, they will not cook properly. Add water or flour as necessary). Stir in the baking powder at this time if you prefer a cake-like crust. Set the pumpkin pieces to be fried next to the stove. They should be patted dry and at room temperature.
3. Heat 2 ½ -3 inches (6.5-7.5 cm) of fresh ghee or vegetable oil in a karai, wok or deep-frying vessel until the temperature reaches 355 F (180 C). Dip 5-6 pieces of pumpkin in the batter and, one at a time, carefully slip them into the hot oil. The temperature will fall but should then be maintained at between 345-355 F (173-180 C) through out the frying. Fry until the pakoras are golden brown, turning to brown evenly, 3-4 minutes per side. Remove with a slotted spoon and drain on paper towels. Serve immediately, or keep warm, uncovered, in a preheated 250 F (120 C) oven, until all of the pakoras are fried, for up to ½ hour.
Serves
6 as a snack or 8 at a meal
By Yamuna Devi Dasi