Sauteed Rice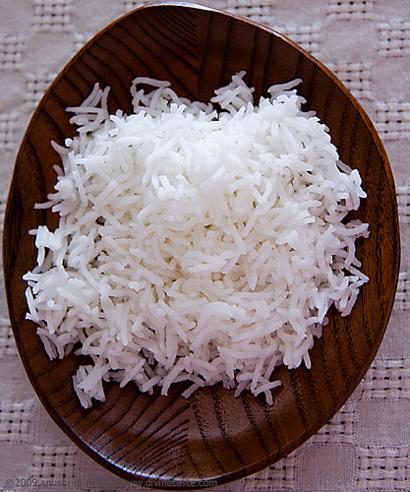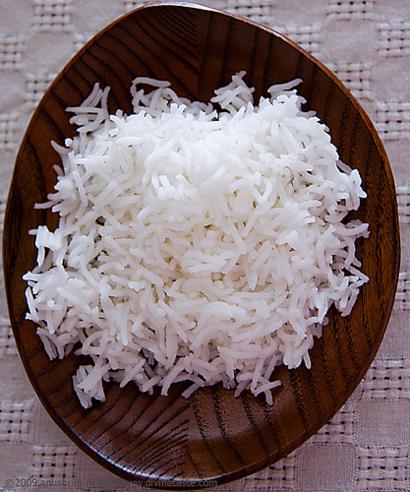 This simple way of steaming rice works equally well with either washed and drained basmati or unwashed American long-grain. By frying the rice in butter or ghee for a few minutes, you can keep the grains distinct, unsplit and fluffy. You may, of course, omit the frying step if you prefer simply put all the ingredients except butter or ghee in a saucepan or electric rice cooker and cook as directed. Depending on the type of electric rice cooker, the rice will firm up 5-10 minutes after the red light goes off.
Preparation time (after assembling ingredients): 5 minutes
Cooking time: 25-35 minutes
Ingredients
• Basmati or other long-grain white rice – 1 cup (95 g)
• Unsalted butter or ghee – 1 ½ table spoons (22 ml)
• Water – 1 2/3 – 2 cups (400-480ml)
• Fresh lemon or lime juice – 1 teaspoon (5ml)
• Salt – ¾ teaspoon (3.5 ml)
Preparation
1. If basmati rice is used, clean, wash, soak and drain as explained on page 4.
2. Heat the butter or ghee in a heavy 1 ½ -quart/liter nonstick saucepan over moderate heat until the butter froths or the ghee is hot. Pour in the rice and gently stir-fry for about 2 minutes.
3. Add the water, lemon juice and salt, increase the heat to high and quickly bring the water to a full boil.
4. Immediately reduce the heat to very low, cover with a tight-fitting lid and gently simmer without stirring for 20-25 minutes or until the rice is tender and the water is fully absorbed. Turn the heat off and let the rice sit, covered, for 5 minutes to allow the fragile grains to firm up.
5. Just before serving, uncover and fluff the piping-hot rice with a fork.
Serves
3 or 4
By Yamuna Devi Dasi