Seasoned Spinach with Julienne Potatoes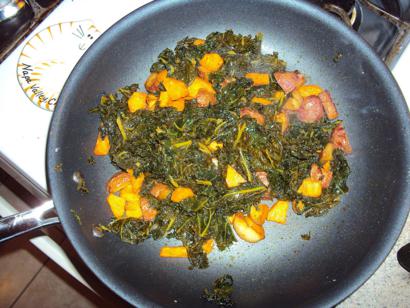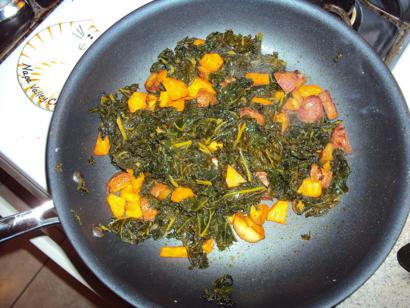 India's city dwellers have been influenced by numerous international cuisines, but the villagers are slow to accept change, if at all, and this recipe is real village-style cooking-simple and straight forward. Spinach is often coupled with mustard greens, kale or collard greens in this dish and because of the potatoes, it is a good way to be introduced to new flavors. This is a "dry" dish, and the fried potatoes are added to the cooked greens just before serving to prevent from losing their shape.
Preparation time (after assembling ingredients): 10 minutes
Cooking time: 30 minutes
Ingredients
• New boiling potatoes (about 1 pound/455 g), cooked until nearly fork-tender – 4 medium-sized
• Turmeric – ½ teaspoon (2 ml)
• Garam masala – ½
• Ground cumin – ½ teaspoon (2 ml)
• Cayenne pepper or paprika – ¼ teaspoon (1 ml)
• Ground coriander – 2 teaspoons (10 ml)
• Sugar – 1 teaspoon (5 ml)
• lemon juice – 1 ½ table spoons (22 ml)
• Water – 2 ½ table spoons (37 ml)
• Ghee or sesame oil – 5 table spoons (75 ml)
• Fresh spinach, trimmed washed and coarsely chopped, or one 10-ounce (285 g) package of frozen chopped spinach, defrosted and pressed dry 1/3 pound (150 g) each fresh collard • • • • greens, mustard greens and kale, stemmed, washed and chopped, or one 10 ounce (285 g) package of frozen mixed greens, defrosted and pressed dry – 1 pound (455 g) 
• Salt – 1-1 ½ teaspoons (5-7 ml)
• Lemon or lime wedges – 6-8
Preparation
1. Peel the potatoes and cut into coarse julienne -1/3 inch (1 cm) wide and thick and thick by 1 ½ inches (4 cm) long. Combine the turmeric, garam masala, cumin, cayenne or paprika, coriander, sweetener, lemon juice and water in a small cup and mix well.
2. Heat the ghee or oil in a heavy 12-inch (30 cm) nonstick frying pan or sauté pan over moderately high heat. Add the potatoes and fry, gently turning, until they are golden brown. Remove with a slotted spoon and set aside.
3. Reduce the heat to low, add the spice blend and fry until all of the liquid has evaporated. Stir in the greens, cover and cook for 10-15 minutes; you may add a sprinkle of water during the cooking if the excess on the leaves has evaporated. Uncover, add the salt and stir well to blend in the spices.
4. Add the potatoes, cover and let them warm through, about 5 minutes. Gently fold the potatoes into greens. Accompany each serving with a lemon or lime wedge, or arrange on a warmed platter garnished wi9th citrus wedges.
Serves
6 to 8
By Yamuna Devi Dasi