Sliced Okra in Seasoned Yogurt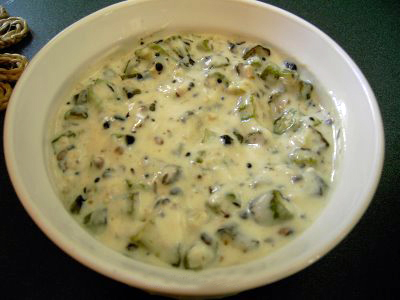 This typically Kashmiri dish, from the Srinagar kitchen of Dr. Karan Singh, is served at room temperature and assembled just before serving. For entertaining, I like to serve it garnished with toasted almonds or pine nuts.
Preparation time (after assembling ingredients): 15 minutes
Cooking time: under 15 minutes
Ingredients
• Okra – 1 pound (455 g)
• Salt – 1 teaspoon (5 ml)
• Yellow asafetida powder (hing) – 1/8 teaspoon (0.5 ml)
• Garam masala – 1 teaspoon (5 ml)
• Finely chopped fresh coriander – 3 table spoons (45 ml)
• Plain yogurt, or half yogurt and half sour cream – 2/3 cup (160 ml)
• Finely chopped toasted almonds or pine nuts – 2 table spoons (30 ml)
• Freshly ground pepper – 1/8 teaspoons (0.5 ml)
• Toasted sliced almonds or pine nuts, as a garnish melted ghee or vegetable oil for frying – 2 table spoons (30 ml)
Note: This amount applies only to yellow Cobra brand. Reduce any other asafetida by three-fourths.

Preparation
1. Wipe the okra with a slightly damp kitchen towel to brush off any dirt. Dry thoroughly with paper towels, then cut off the stems and tails and slice crosswise into rounds ½ inch (1.5 cm) thick. Pour ghee or oil to a depth of 1 ½ inches (4 cm) into a deep-frying vessel. Place over moderate heat until it reaches 365 F (185 C) on a deep-frying thermometer. Add the okra and fry until golden brown and crispy. 2. 2. Remove the okra with a fine-mesh frying spoon and transfer to cookie sheet lined with paper towels. Sprinkle with ¾ teaspoon (3.5 ml) salt, and the asafetida, garam masala and coriander, and toss to mix.
3. Combine the yogurt with the chopped pine nuts, black pepper and the remaining ¼ teaspoon (1 ml) salt in a bowl and stir until creamy.
4. Drizzle portions of the fried okra with the yogurt sauce and garnish with whole pine nuts, or fold into the sauce and gently blend

Serves
4to 6

By Yamuna Devi Dasi