Sooji Cheela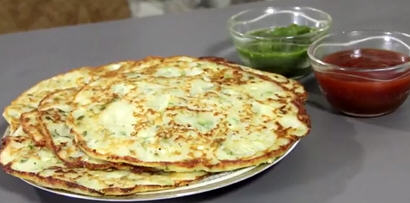 Ingredients
. Semolina – 1 cup
. Wheat Flour – 1/4 cup
. Curd – 1 cup
. Cabbage – 1 cup (chopped)
. Cauliflower – 1 cup (chopped)
. Capsicum – 1/2 cup (Chopped)
. Cottage Cheese – 100 gms
. Green Coriander – 2-3 tbsp (finely chopped)
. Refined Oil – For Roasting Cheela
. Ginger – 1 inch piece (grated)
. Green Chilli – 1 (finely chopped)
. Salt – 1 tsp
. Mustard Seeds – 1/2 tsp
Preparation
1. Firstly dissolve semolina in curd and prepare batter. Use mixture grinder for making batter.
2. Place curd, crumbled paneer in mixture jar. Whisk curd and paneer nicely along with semolina. Add flour as well to get better binding. Add water if batter is thick in consistency.
3. Take out batter in a bowl. Add cabbage, cauliflower, capsicum and green chilly in the batter. Also add salt, ginger and green coriander and mix all ingredients nicely.
4. The consistency of batter should be smooth so that it can be spread easily on the tawa.
5. Keep the batter aside for 10-15 min so that it ferments
6. After 15 mins stir the batter again. Turn on the flame and preheat a pan. we used nonstick pan for making cheelas
7. Pour some oil in pan and heat sufficiently also keep the flame low.
8. Place few mustard seeds in pan. Now pour 1-2 tsp batter on pan. Spread it evenly in round shape, keeping it bit thick.
9. Now pour some oil all round and over the cheela. Cover and cook for 2-3 mins. Check after 2 mins.
10. Cheela has turned brown from beneath, flip the side. Increase the flame and cook for another 2 mins until it turns brown in color from this side as well.
11. Place the cheela in plate. Like wise make all cheelas.
By Bhaktin Archana