Whole Cauliflower Crowned with Creamy Avocado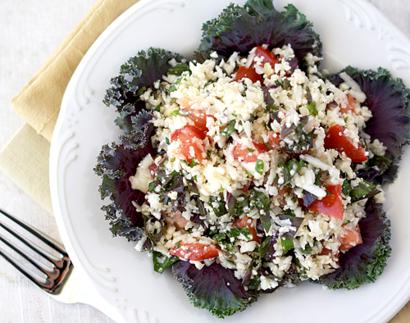 India's intense heat prevents the widespread use of salad greens both for home gardeners and on a commercial scale. During northern winters, some green thumbs are successful with a few hardy types. In my search for salads with staying power, using available ingredients, I happened on this variation. It is eye-catching on a salad buffet, and often the first to disappear.
Preparation time (after assembling ingredients): 10 minutes
Cooking time: 25 minutes
Chilling time: 3 hours
Ingredients
• Cauliflower (2 ½ pounds/1.25 kg), trimmed – 1 large
• Tomato, peeled, seeded and finely chopped – 1 large
• Olive oil – 2 teaspoons (30 ml)
• Lemon or lime juice – 1 table spoon (15 ml)
• Cayenne pepper or paprika – ½ teaspoon (2 ml)
• Ground coriander – 1 teaspoon (5 ml)
• Salt – ¼ teaspoon (1 ml)
• Freshly ground pepper – 1/8 teaspoon (0.5 ml)
• Avocados, peeled, pitted and mashed – 2 medium-sized
• Sour cream – 3 table spoons (45 ml)
Preparation
1. Slice the base off the stem end of the cauliflower so it can sit on a flat surface. Fill a large pan with water to a depth of at least 1 inch (2.5 cm) and place a steaming rack or trivet inside. Bring the water to a boil and place the cauliflower in the steamer. Cover, reduce the heat slightly, and steam until the cauliflower is barely tender, ½ hour or more; avoid overcooking. Let cool, cover, and chill for 3 hours or more.
2. Combine the remaining ingredients in a bowl and mix well. Spread the mixture over the chilled cauliflower, and serve on a bed of cabbage or outer cauliflower leaves on a serving dish. Cut into wedges and serve.
Serves
4 to 6
By Yamuna Devi Dasi