Adadiya Pak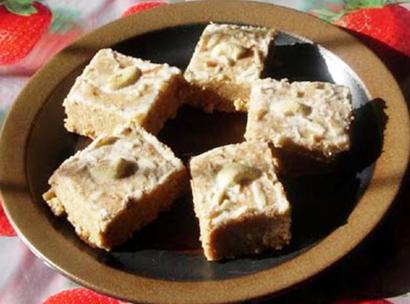 Ingredients
• Urad dal – ½ kilo
• Ghee – 1 kilo
• Khoya – ¼ kilo
• Dry ginger powder – 50 gms
• Sugar powder – ¾ gms
• Pepper root powder – 20 gms
• Poppy seeds – 100 gms
• Cardamom powder – 6-8
• Almond – 50 gms
• Pistachio – 50 gms
• Cashew- nut – 50 gms
• Raisins – 50 gms
• Mace powder – 2 tbsp
• Saffron – 1 tsp
Preparation
1. Grind urad dal to cream of wheat like, in the mixture and sieve the flour.
2. Chop almonds, pistachio and cashew- nuts into small pieces.
3. In a frying pan melt ghee and roast urad dal flour till it is brown in color.
4. Add grated khoya and roast for 5 minutes.
5. Now add dry ginger powder, pepper root powder, cardamom powder, poppy seeds, and mace powder and mix well.
6. Add powder sugar and stir till it leaves the side of the pot.
7. Mix raisins pieces of almond, pistachio and cashew- nut.
8. Grease a thali and pour the contents.
9. When cool, cut them into pieces.
10. Decorate with cashew nut.
Serves
4 Persons
By Bhaktin Pooja