Egyptian Baked Semolina Syrup Cake (Basbousa)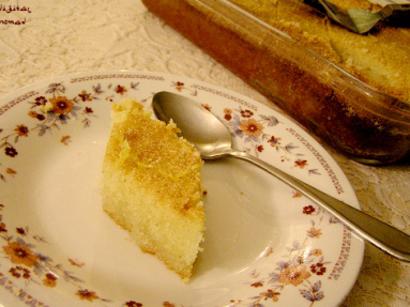 Ingredients:
• Fine semolina – 2 cups
• Dried coconut threads, or coarse dessicated – 1 cup
• Sugar – ½ cup
• Butter, melted – 150g (5 ounces)
• Milk – 1 cup
Syrup
• Sugar – 1½ cups
• Water – 1½ cups
• Fresh lemon juice – 2 tbsp
Preparation:
1. Preheat the oven to 175° C / 345° F.
2. Whisk together the semolina, coconut and sugar in a bowl. Add the butter and milk and mix until well combined.
3. Pour the mixture into a buttered, shallow, medium-sized dish.
4. Bake for 30 minutes, or until lightly golden brown.
5. Prepare the syrup: slowly dissolve the sugar in the water in a medium saucepan over low heat. Increase the heat to moderate and boil the syrup until it reduces by about one-third, or until it just coats the back of a spoon. Add the lemon juice.
6. Cut the completed cake into diamond shapes while it's still hot, and pour the hot syrup over. It will seem like a lot of syrup, but it will all gradually soak in.
7. Serve at room temperature. Best the next day.
By Kurma