Almond Jelly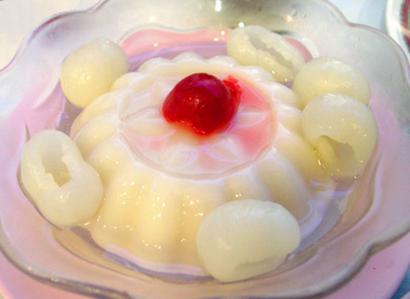 Ingredients
• Agar agar powder – 1 packet
• Sugar – 1 cup
• Water – 4 cups
• Evaporated milk – 4 tbsp
• Almond essence – 1 tsp
• Fruit cocktail or longans – ½ cup
Preparation
1. Boil 4 cups of water and add 1 cup of sugar into a saucepan on high flame.
2. Sprinkle the agar agar powder on top of the water and stir well.
3. Bring to the boil, stirring continuously.
4. When boiled, reduce the flame and add evaporated milk and almond essence.
5. Pour into rinsed jelly mould and leave to set.
6. Chill before serving with fruit cocktail or longans.
Serves
3-4 Persons
By Bhaktin Sushma