Bell pepper in spicy gravy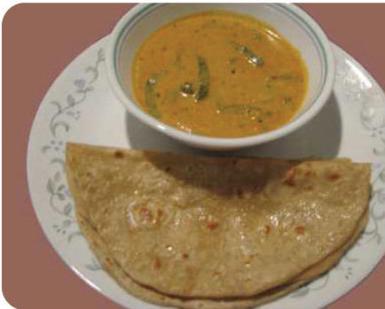 Ingredients
Oil……………………………………………………..2Tbsp
Bell peppers cut in strips………………………..2
Coriander powder………………………………..1 ½ Tsp
Red chili powder…………………………………..½ Tsp
Ginger grated………………………………………1Tbsp
Green chilies chopped…………………………..2-3
Tomatoes blended………………………………..3
Salt…………………………………………………….1Tsp
Kasuri methi (dried fenugreek leaves)……..1 Tsp
Garam masala…………………………………….1 Tsp
Yogurt………………………………………………..1Tsp

Preparation
1.In a pan, heat 1 Tbsp of oil; saute the bell peppers till tender-crisp. Remove fromheat.
2.Heat the remaining oil; add corianderpowder and red chili powder, sauté them for 30 seconds. Add green
chilies, ginger and stir fry them for 1 minute. Add the blended tomatoes, salt and cook till oil comes ontop
of the surface.
3.Add the kasuri methi, garam masala and bell peppers; cook for few minutes.
4.Stir in the yogurt and take off from theheat immediately. Serve hot with chapatis.

Serves
4-5
By Anand Lila Devi Dasi