Fruit juice jelly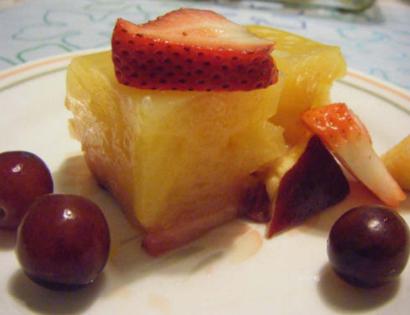 Ingredients
•2 cups orange juice
•2 cups pineapple juice
•½ cup agar flakes
•2 tbsp cold fruit juice
•1 tbsp arrowroot powder
•2-3 cups fruits, sliced pears/peaches/nectarines/berries
Preparation
1.In a saucepan, combine the juice and agar flakes (used to replace gelatin; agar flakes can be found in any Asian market). Bring to a simmer and cook gently until agar is dissolved; stir frequently.
2.In a small bowl, mix the fruit juice and arrowroot (can be found in any Asian market) and blend well. Add arrowroot mixture to the saucepan, stir well and cook for 2 minutes.
3.Meanwhile, place sliced fruits in a serving bowl or mode, pour on the cooked juice. Let it cool for 20 minutes then refrigerate it for a few hours before serving.
4.You may use any juice you wish to make kanten. Also, you can use herb tea instead of fruit juice to make kanten.
Serves
6-8
By Madhavi Devi Dasi.