Brussels Sprouts, Potatoes & Peas with Sour Cream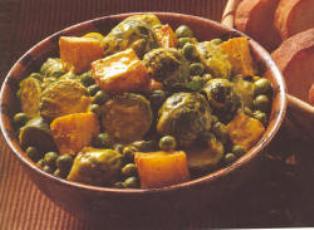 Ingredients:
• Baking potatoes, peeled and cut into cubes – 2 large
• Ghee or oil for deep-frying
• Fresh green peas – 1 cup
• Ghee or oil – 2 tbsp
• Fresh curry leaves – 10–15
• Yellow asafetida powder – ½ tsp
• Small, firm Brussels sprouts, halved – 750g
• Coarsely-ground black pepper – ¼ tsp
• Ginger powder – ½ tsp
• Turmeric – ½ tsp
• Cayenne pepper – ¼ tsp
• Salt – 1–1½ tsp
• Sour cream, at room temperature – 1 cup
• Chopped fresh coriander leaves or parsley – 1 tbsp
Preparation:
1. Rinse the potato cubes in cold water. Drain and pat them dry. Place enough ghee in a deep pan or wok that will well cover the quantity of potatoes. Heat the ghee to 190°C/375°F.
2. Deep-fry the potato cubes for 8–10 minutes, or until they are lightly golden brown. You may need to fry them in two batches. Remove the potatoes and drain them on paper towels.
3. Place the peas in a small saucepan and cover them with water. Bring to the boil, and cook the peas for 5–8 minutes, or until tender. Drain and set aside, reserving the water. If using frozen peas, blanch briefly in boiling water.
4. Heat the 2 tablespoons ghee or oil in a 3-litre/quart saucepan over moderate heat. When fairly hot, drop in the curry leaves and saute them for a few moments.
5. Sprinkle in the yellow asafetida powder, stir momentarily and then drop in the Brussels sprouts halves. Saute them in the fragrant oil for 3 or 4 minutes. Sprinkle in the black pepper, ginger powder, turmeric, cayenne pepper and salt, stir to mix and add ½ cup water.
6. Stir briefly, place a lid on the saucepan and cook over moderate heat for 10 minutes or until the Brussels sprouts are just tender when stabbed with a knife point. Add the peas, potatoes, and herbs and then fold in the sour cream. Add a little of the reserved pea water if the dish is a little dry. Serve immediately.
By Kurma