Candied Cassava Root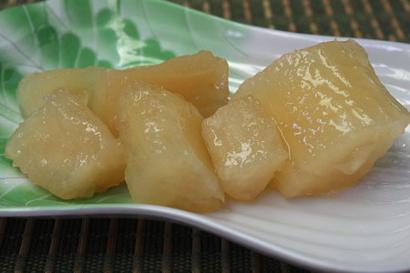 Ingredients
• Cassava Roots – 1 kg
• Sugar – 600 gm
• Water – 4 Cups
• Coconut Cream (Optional) – ½ Cup
• Salt (Optional) – ¼ tsp
Preparation
1. Peel the Cassava Roots and cut them into pieces about 7cm long.
2. Wash and then dry the Cassava pieces.
3. Use large saucepans add the water and the sugar and bring to the boil over a medium heat until all the sugar dissolves.
4. Add the Cassava root pieces and continue boiling over a low heat until the cassava is cooked through and fully caramelized.
5. Let them cook for about 2 hours.
6. Remove from the heat and then transfer it to the serving dish.
7. And serve either hot or cold.
Serves
4-5 Persons
By Bhaktin Ranjana