Chili Paneer-01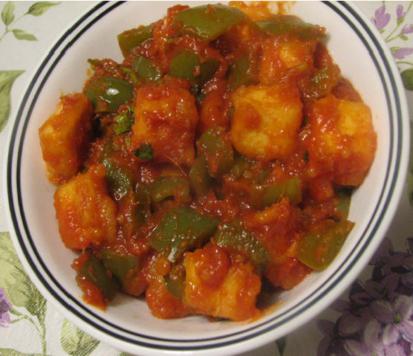 •
500 gm paneer, cut into ½ -inch cubes
•
¾ C cornstarch/cornflour
•
1½ Tbsp ginger, finely grated
•
½ Tsp yellow asafetida powder
•
2 hot green chilies, chopped
•
3 bell peppers (capsicum), diced into ½ -inch squares
•
3 Tbsp chopped fresh coriander leaves
1.In a small mixing bowl, combine the cornstarch, 1 Tsp of soy sauce, ½ Tbsp of ginger, chili powder, ½ Tsp salt and water until
smooth. (You can adjust the consistency of the batter accordingly by adding more cornstarch or water so that it just coats the paneer
cubes to be able to deep fry them)
2.Heat oil in a frying pan. Dip the paneer pieces in the batter prepared and deep fry it in oil until golden brown (the cornstarch in the batter might sit at the bottom so keep stirring the batter often). Drain the paneer on paper towels and keep aside.
3.Heat 2 Tsp oil in a saucepan over moderate heat, sprinkle asafetida powder, and drop the green chilies and the remaining ginger. Stir-fry for a few seconds. Pour the tomato puree, the remaining soy sauce, salt and sugar. Reduce the heat to low and cook until oil comes on top.
4.Add the diced bell peppers and cook covered until softened. Add the fried paneer, coriander leaves and combine well.
Cook for 5 more minutes and serve hot.
4-6
By Anand Lila Devi Dasi