Dahi baigan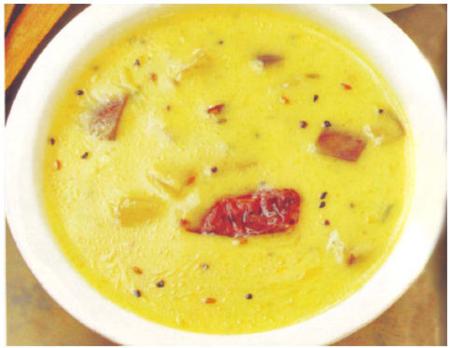 •
Long brinjals (eggplants)…………………. 3-4 medium sized
•
Ginger…………………………1 inch piece
•
Coriander powder…………….. 2 tsp
•
Garam masala powder……….. 1 tsp
•
Red chili powder……………… 1 tsp
•
Cumin powder…………………. ½ tsp
•
Turmeric powder………………. 1 tsp
•
Salt……………………………… to taste
•
Green chilies…………………… 3-4
•
Fresh coriander leaves………….. A few sprigs
•
Red chilies whole………………. 3
•
Gram flour (besan)………………½ cup
•
Oil………………………………. 4 ½ tbsp
•
Cumin seeds……………………… 1 tsp
•
Asafetida……………………….. ¼ tsp
1.Wash brinjals, destem and cut into cubes.
2.Pel, wash and grind ginger to a paste.
3.Add ginger paste, coriander powder, garam masala powder, red chili powder, cumin powder, turmeric powder, salt to Brinjal pieces
and mix well. Cover and keep aside to marinate for five minutes.
4.Remove stems, wash and chop green chilies. Clean, wash and chop coriander leaves. Remove stems and break red chilies into two
pieces each.
5.Beat together yogurt and gram flour. Mix in four cups of water. Keep aside.
6.Heat two tablespoons of oil in a kadai. Add green chilies and sauté for three to four minutes. Add marinated brinjal cubes and cook for ten minutes. Stir in yogurt mixture and cook for another five minutes.
7.Heat remaining oil in another pan and add cumin seeds. When they begin to change color, add red chilies and asafetida. Add this
tempering to cooked brinjals and stir.
8.Serve hot garnished with coriander leaves.
By Vaidehi