Christmas Sugar Cookies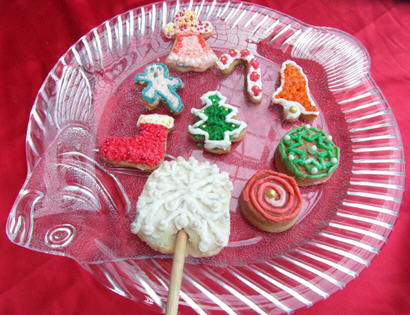 Ingredients
. 21/2 cup Maida/All purpose flour
. 1 tsp baking soda
. 1 tsp cream of tartar or few drops of vinegar
. 1 ½ cup powdered sugar
. 1 cup soft butter
. 1 ½ tsp vanilla essence
. ¼ cup yogurt
. Candy sprinkles/ colored sugar
. Christmas shaped cookie cutters.
. Sticks for cookie lollipops
For Frosting
. 2 cups powdered sugar
. ½ tsp vanilla essence
. 2 tbsp milk
Preparation
1. In a large bowl mix 1 ½ cup sugar, butter, Vanilla essence and yogurt till well blended. Stir in flour, baking soda and vinegar. Cover and refrigerate till firm.(20 minutes in freezer and 1 hour or more in the fridge. Can keep overnight or can freeze the dough for a month too.)
2. Preheat oven to 375F or 190C. Divide the dough in half. Roll each half on a lightly floured surface. Don't make it too thick or too thin. Cut into assorted shapes with a cookie cutter.
3. If they are to be hung as decorations, make a hole in each cookie with the end of a plastic straw.
4. Place on a greased baking tray and bake for 7-8 minutes or till light brown. Once cool, remove from the tray.
5. In a medium bowl, beat all frosting ingredients smooth. Tint with food color and decorate.
Video Recipe
By Meena Samtani (Madhulila)