Coconut sevai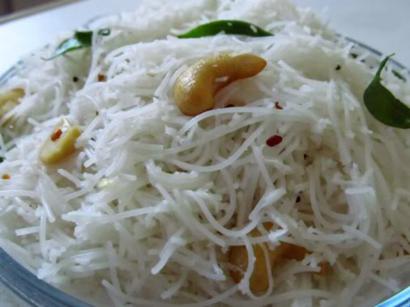 Ingredients
• Rice noodles – 200gms
• Water – about 1.5 liters
• Salt – as per taste
For Seasoning:
1. Grated coconut – ½ cup
2. Mustard seeds – ½ tsp
3. Urad dal – 2 tsp
4. Cashew nuts – 1 tbsp
5. Green chilies – 4
6. Curry leaves – 2 strings
7. Asafetida – a pinch
8. Oil – 1.5 tbsp
9. Salt – as required
Preparation
1. Cook the rice noodles as per the package instructions.
2. Normally rice noodles are cooked in heavily salted boiling water for 3-4mins.
3. When noodles become soft, turn off the heat & let the noodles sit in hot water for another minute.
4. Drain the noodles & run the noodles under cold water.
5. Break the noodles into manageable size.
6. Prepare the seasoning, heat oil in a kadai, add mustard seeds.
7. When seeds begin to pop, add urad dal & sauté till the dal turns golden.
8. Then put cashews & sauté, add the curry leaves, green chilies; let the curry leaves become crisp.
9. Add asafetida, grated coconut & sauté the coconut until it leaves out a nice aroma (take care not to brown the coconut).
10. Sauté for a maximum of 1 minute.
11. Finally add the cooked rice noodles, adjust the seasoning and mix well and turn off the heat.
Serves
3-4 Persons
By Bhaktin Mallika