Khubsurat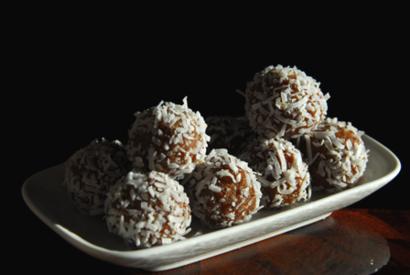 Ingredients
• Muscat date – 400 gms
• Mava (ricotta cheese) – 100 gms
• Cashew nut – 100 gms
• Walnut – 25 gms
• Almond – 25 gms
• Pistachio – 25 gms
• Cardamom's powder – 6-7
• Sugar – 5 tbsp
• Dry coconut, grated – 1 cup
• Milk – 2 tbsp
• Ghee – 1 tbsp
• Water – 1 ½ cup
• Sugar – ½ cup
Preparation
1. Take dates and remove the seeds.
2. Grind cashew nut and walnut into powder.
3. Chop almond, pistachio, into small pieces.
4. In a pot take dates and add milk. Heat for 10 minutes and remove.
5. When cool mash it with hands.
6. In another pot take mava (ricotta cheese), add ghee and roast for 3-4 minutes. Add cashew-nut powder, walnut powder, cardamom powder, 5 tbsp powdered sugar, pieces of almond and pistachio. Mix and make small balls.
7. Take mashed dates in the palm and shape it like a puri.
8. Fill with the small ball filling, cover and make round balls.
9. In a pot mix sugar and water and boil for 1-tar consistency.
10. Dip each ball in the sugar syrup and roll in the grated coconut.
11. Cover them in butter paper and serve.
Serves
4 Persons
By Bhaktin Pooja