Imarti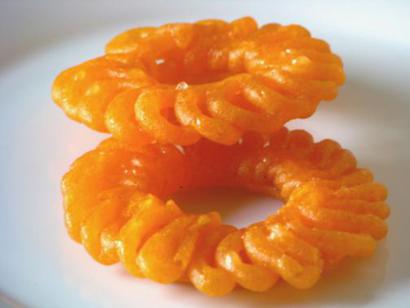 Ingredients
• Urad dal – 2 cups
• Sugar – 3 cups
• Water – 300 ml
• Saffron color – Pinch
• Cardamom ground – ½ tsp
• Pure ghee – 500 gms
Preparation
1. Soak urad dal overnight in plenty of water.
2. Wash and drain. Grind urad dal to fine thick batter.
3. Put water little by little as needed, add color and mix very well.
4. If using a mixer, beat the dal well by hand till fluffy after grinding.
5. Keep aside for 3 hours and in winters for about 8 hrs.
6. Heat a pan and add water and sugar. Stir till it forms (1 string) consistency.
7. Add cardamom powder to syrup and mix well.
8. Heat ghee in a round bottomed heavy vessel.
9. Take a 12"x 12" cm thick cloth; make a small hole in centre.
10. Place over a tumbler and pour in some batter.
11. Hold like a pouch and press out imartis like icing in the hot ghee.
12. Shape the imartis in round shape as shown in the image, make a ring first, then form small ringlets all along the ring.
13. Cook on low flame and allow turning light golden in color.
14. Remove from ghee, drain and dip in hot sugar syrup; then keep aside to drain for 3-4 minutes.
15. Repeat the same for remaining batter.
Serves
6-7 Persons
By Bhaktin Malathy