Laddu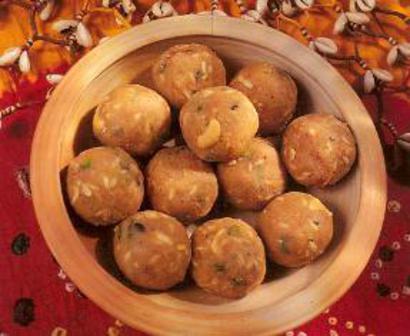 Ingredients
• Unsalted butter – 3/4 cup
• Chickpea flour, Sift after measuring – 2 cups
• Chopped walnuts – 2 tbsp
• Ground nutmeg – 1/4 tsp
• Icing sugar, sifted after measuring – 1 cup
Preparation
1. Melt the butter in a heavy-based frying pan or small saucepan over a low heat. Add the sifted chickpea flour, walnut pieces, and nutmeg. Cook, stirring constantly with a wooden spoon, for about 15 to 20 minutes or until the mixture becomes deep golden brown and loose in consistency.
2. Remove the pan from the heat and add the icing sugar until it is well combined.
3. Spoon the mixture into a dish and spread it out. When cool enough to handle, roll the mixture into balls. Alternatively, you can spread the hot mixture into an even slab in a lightly-buttered dish and slice into squares when cool. Refrigerate until the laddu becomes firm. Serve cool or at room temperature.
By Bhaktin Priya

Source: www.kurma.net