Malpua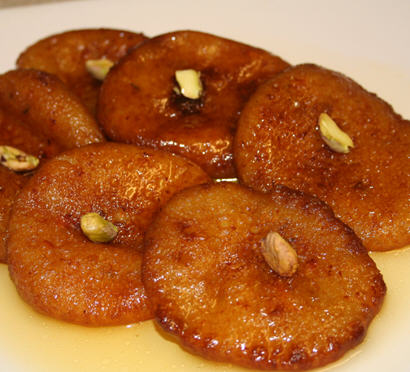 Ingredients
500ml Milk
3 to 4 tbsp Plain flour
1/2 cup Sugar
1/2 cup Water
300ml Oil for deep frying
½ tsp Cardamom powder
few Saffron strands
Method
(1) Boil 500 ml of milk in a heavy bottomed vessel on a low flame. Keep stirring for about 20 to 30 minutes till the milk gets thicker and reduces to 3/4th of its quantity.
(2) In the meantime make sugar syrup by boiling sugar, cardamom and water. You can dissolve a few saffron strands in a small quantity of warm milk and add it in the sugar syrup anytime.
(3) Allow the thickened milk to cool. Add 4 tbsp of plain flour and whisk generously to make a lump-free batter.
(4) Take oil in a flat bottomed frying pan and heat it.
(5) Carefully spread a ladle full of batter in oil to make a small pancake. Fry on medium or low flame. Turn it gently and fry on the other side till it is crisp brown from all sides. [If you find the batter separating out, add very little flour to thicken it and try again. Or if the batter is too thick add some milk. Keep trying with little batter till you are sure that the batter doesn't separate out when you pour.]
(6) Remove the pancake from oil and dip it in sugar syrup (warm) for a minute and then drain it in a colander.
(7) Repeat the procedure for the rest of the batter.