Motichur Laddoo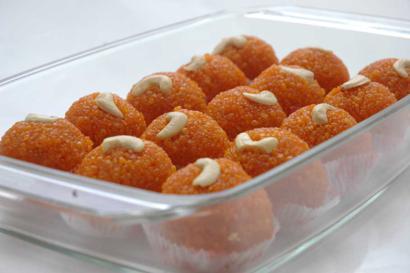 Ingredients
• Gram flour (besan) – 2 cups
• Clarified butter (ghee) – 2 cups
• Sugar – ¾ cups
• Almonds, finely chopped – 2 tbsp
• Cardamom powder – ½ tsp
• Edible saffron color – ¼ tsp
• Cashew – 2 tbsp
Preparation
1. Mix gram flour with just enough water to make a thick Batter and add color to it.
2. Heat clarified butter (ghee) and through a sieve, gently place batter drops into the hot ghee.
3. Fry till pink and drain out. Continue till all batter is used.
4. Reserve the fried drops as boondis.
5. Heat sugar with ¾ cup water and make sticky syrup of one threads consistency.
6. Add fried boondis, almonds, cardamom powder and mix well.
7. While still warm, shape the syrup-coated boondis into round ladoos, and leave till dry.
8. Arrange cashew pieces on top of each ladoo.
Serves
4 Persons
By Bhaktin Shanti