Coconut Burfi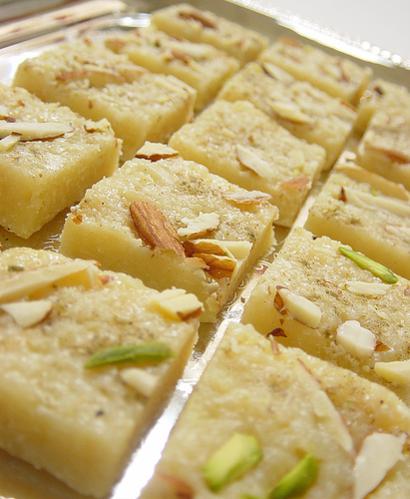 Ingredients
• Khoya – 200 gms
• Coconut (dry and desiccated) – 200 gms
• Cardamom powder – 1 tbsp
• Clarified butter or ghee – 1 tbsp
• Sugar – 3 cups
• Water – 2 cups
• Almonds (grated) – ½ tbsp
• Pistachios (grated) – ½ tbsp
• Milk – 1 ½ cup
• A few strands of saffron
Preparation
For Sugar syrup:
1. Take a pan and add 2 cups of water and 2 cups of sugar and let it boil for sometime till, one-string Consistency is formed. Keep it aside.
For Coconut Burfi:
1. Take frying pan. Dry roast all the nuts together. Keep it as it is.
2. Now take a saucepan. Dry roast the desiccated coconut for 5 minutes by constantly stirring it, otherwise it may get burnt easily or may get stick in the bottom of the pan.
3. Now add ghee or clarified butter into it.
4. Mix khoya (dried condensed milk) in coconut mixture and fry them lightly on a low heat. Pour the milk into the mixture.
5. Add saffron and cardamom powder.
6. Again stir it and mix well.
7. Now add the sugar syrup in the coconut mixture.
8. Continuously, stir so that the mixture does not stick to the sides of the pan.
9. When the coconut turn translucent and soft off the gas. Coconut fudge is ready.
11. Now grease the plate and spread evenly the coconut mixture.
12. Smoothen the top with a spatula.
13. Decorate with almonds and Pistachios.
14. Allow it to cool for 1 hour in the refrigerator, and then cut into 1 inch squares with a greased knife.
Serves
4-5 Persons
By Bhaktin Sushma