Mrdang Pineapple Date cake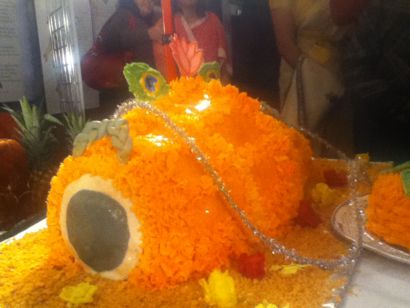 Ingredients
• Whole wheat flour- 3/4 cup
• Maida/unbleached flour- 3/4 cup
• Baking powder- 1 tsp
• Eno- 1 tsp
• Crushed pineapple with juice- 1 can(8oz)
• Very Ripe banana (about 1/2 large), mashed-1/4 cup
• Vanilla/almond essence- 1 tsp
• Finely chopped dates- 2/3 cup
For Assembling the Mrdang pattern.
• Cake
• Butter cream Icing mixed well with orange red colour powder.
• Fondant- 1cup approx coloured grey or black or white- to make the hooks on either side of the Mrdang (made 2-4 days in advance)
• Silver ribbon- to tie on the hooks to carry the Mrdang
• Gum paste- 1/4 tsp of gumpaste mixed with 1 tbsp of water. kept for 10-15 minutes(acts like gum)
Method
1. Combine the flours, baking powder and eno, and stir to mix well.
2. Stir in the pineapple including the juice, banana, and vanilla/almond essence.
3. Fold in the dates.
4. Coat an 8 inch pan with non stick cooking spray/ lightly greased and powdered well with flour.
5. Spread the batter evenly in the pan.
6. Bake at 325F for 25-30 minutes or till wooden toothpick inserted in the center of the cake comes out clean.
7. Cool the cake for 20 minutes.
For Assembling the Mrdang pattern.
1. Depending on the size of the Mrdang you want, make one/two 10' round cake(for the center) and one/two 8' round cake(for the left half of the cake) and two/three 6 inch round cake(for the right half of the cake). ( theres no need to buy so many cake pans. You can increase or decrease the size of the cake by adding extra cake or removing the cake off. It will get hidden by the icing)
2. Arrange the height of the cake carefully. The centre is the tallest part and the right half of the cake is longer than the left half.
3. Use any plain icing/jam between the layers of the cake.
4. Crumb coat the cake with orange- red coloured butter icing. Keep in fridge for 15 minutes.
5. With half cup fondant, roll it, make 3 plaits and twist it like a braid. Hang it over an upturned glass and keep to dry for 2-4 days. Make 2 such hooks.
6. With Icing tip 2D make drop flower effect icing all over the Mrdang cake as shown in the picture. Or you can just ice the cake again.
7. Attach the hooks on either side with gum glue paste and press it carefully inside the cake.
8. Tie the silver ribbon on both the hooks to give it the finishing touch.
Variations
1. You can make a topping of 1 1/2 Tablespoon each of brown sugar and shredded coconut. Mix well till crumbly. Sprinkle the topping on the batter in the pan and bake. After cooling the cake, cut into squares and serve warm/room temperature after offering to the Lord.
2. You can ice the cake with butter icing. Recepe is mentioned in the Strawberry lotus cake.
Serves
9-10 Persons
By Bhaktin Meena